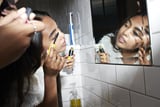 Open any social media app on your phone right now, and you'd be hard pressed to find someone not going down memory lane and reliving their "teenage dirtbag" days. The trend, which is soundtracked by the song "Teenage Dirtbag" by Wheatus, shows people recalling the often grungy fashion and beauty aesthetics that they wore in their youth. Of course, this has only reignited interest in the edgy beauty looks that dominated the late '90s, with people putting their own spins on the looks. Enter: antimascara eyes.
Made popular by TikTok user Davina Muse, the trend uses mascara as eyeshadow or face makeup in any way other than how it is traditionally used on the lashes. "Antimascara eyes is a technique where mascara is applied to the eyelid in a stippling or rolling motion creating flattering/abstract shapes," professional makeup artist and content creator Ehlie Luna tells POPSUGAR. "It's a very runway- and editorial-esque technique that has been around forever."
As for why the look is trending at this specific moment, well, consider it a pendulum swing. "The 'clean' makeup aesthetic has been dominating for so long, it was only a matter of time before we saw something that speaks to the antithesis of that," Luna says. With the look only expected to grow in popularity over the next few months, Luna has a few tips to achieve it at home.
"Play around with any mascara you have at home just to get a feel for the technique," Luna says. A few she specifically recommends are the MAC Cosmetics In Extreme Dimension 3D Black Lash ($26), the Rare Beauty Perfect Strokes Universal Volumizing Mascara ($20), and the Maybelline Curl Bounce ($11). Regardless of which you go with, make sure to choose a mascara that isn't flaky to get the look to really stick. "Additionally, different brands will give different looks depending on the brush-tip design of their mascara wands."
When creating the look itself, framing is key. "First, decide what shape you want to create," Luna says. "The safest, easiest entry will be a stippling approach using the tip of the mascara wand, but you can definitely play and get creative using the side of the brush, rolling it on the face, etc. Anything is possible with this trend." One of Luna's favorite ways to wear the trend? In a deconstructed cat eye. "You can basically create the same shape you would for a doe eye or cat eye but focus the brush on the crease and outer portion of the eye," she says. "Another option is to clean up any edges with a flat, synthetic brush soaked in micellar water to get those sharp lines on the outer corners."
Luna suggests pairing antimascara eyes with fresh skin and nude lips. "The trend is so bold already, you don't need much else to make it very eye-catching," she says. "For a more intense lip, try a lip stain." However you decide to approach this look, though, remember a key element when it comes to a good grungy glam: don't look like you tried too hard.
Get some inspiration for your own antimascara eyes ahead.