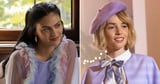 Netflix's "Do Revenge" is cinematic proof that vengeance is that much sweeter when you have a flawless cat eye and butterfly clips in tow. The moment Drea (played by Camila Mendes) struts on screen in her Y2K-inspired half-up, half-down braided hairstyle (with face-framing pieces, no less), we understand there's a cutthroat attitude underneath her lip-gloss-laden exterior. With every turn of her head, new details are revealed: colorful accessories, subtle twists in the curve of her plaits, and eyebrows so sharp, they could cut the tension between Drea and Eleanor (Maya Hawke) like a knife.
As the movie delves deeper into Drea and Eleanor's friendship, their makeup and hairstyles – yes, including Eleanor's major bob transformation – tell a story all their own. For makeup department head Ellen Arden and hair department head Katie Ballard, creating the looks was a taste of nostalgia.
"I was really inspired by some of the looks Angelina Jolie wore in 'Hackers' and in editorials she was doing in the '90s."
"When we meet Drea, we can see inspiration from 'Clueless' and 'Cruel Intentions,' as well as inspiration from '90s supermodels, especially Karen Mulder," Arden tells POPSUGAR. "Eleanor's polished makeover look has Fern Mayo [from 'Jawbreaker' (1999)] all over it. However, I also love to pay homage to characters and looks that are not on your typical list of favorite '90s movies."
The best example is when, later in the film, you see a change in Eleanor's appearance. "For that aesthetic shift, I was really inspired by some of the looks Angelina Jolie wore in 'Hackers' and in editorials she was doing in the '90s," she says. "These looks had goth-grunge elements and were strong and edgy, perfect for the badass version of Eleanor."
Combining the '90s teen-movie aesthetic with modern runway inspiration and the vibrant Miami vibe, Arden and Ballard were able to beat the Atlanta heat and pull together a succession of badass beauty looks. "I always like to work in tandem with the hair department head to ensure that the look of the character we are designing is cohesive and makes visual sense," she says. Together, and with the help of costume designer Alana Morshead, the pair defined Drea and Eleanor's retro style. "Once costumes were approved, Katie and I would share our ideas and visions for the characters and begin sorting out each character's cinematic evolution."
Ahead, see behind-the-scenes photos of the "Do Revenge" cast – including Mendes, Hawke, Alisha Boe, Sophie Turner, and more – in the hair and makeup chairs, and shop some of the products Ballard and Arden used to create their iconic Y2K styles.