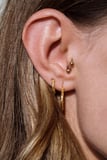 Piercing trends in recent years have evolved far beyond the free ear piercings offered at the mall.
In 2023, you can expect to see nostalgic piercing placements, detailed jewelry, and more.
Piercer Johnny Pearce is breaking down the biggest trends worth considering in the new year.
There are few things as adrenaline inducing as getting a new piercing, and it feels like everyone is opting for a new one lately. It makes sense: the desire to show off our personal style is stronger than ever before, which means people are traveling far and wide to get their piercings done. And you'd best believe everyone's favorite piercing trends are some of the most nostalgic and creative placements yet.
With so many choices out there right now, it's easy to get caught up in all the names and options available to you, so we sat down with Johnny Pearce, piercer at Nine Moons Piercing in New York City, to break down the biggest piercing trends of 2023. Keep reading for his expert opinion on the piercing trends you'll be seeing everywhere this year – and get ready to load up on inspiration for your next trip to the parlor.
First, a Note on Healing a Piercing
Regardless of which trend you end up trying, it's worth noting that a tremendous part of the healing process is the aftercare. Brian Keith Thompson, celebrity piercer and owner of Body Electric Tattoo, recommends mild soap without alcohol or fragrance to keep the piercing clean so you can show off your style for years to come.
You also want to consider healing times before choosing a piercing placement. Lobes typically take 10 to 12 weeks to heal, and cartilage takes six months to a year to heal.