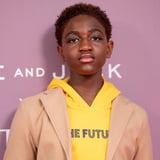 Zaya Wade debuted a new retro hairstyle for her partnership with Tiffany & Co. on Instagram, captioning the post, "Dreams become reality." Little does she know she is the dream herself.
The daughter of Dwyane Wade and Siohvaughn Funches shared a series of self-shot photographs to highlight the jewelry brand's new collection, Tiffany Lock. Tiffany Lock celebrates androgynous fine jewelry, which seems to be the perfect fit for Zaya, who is transgender and a vocal ally for the LGBTQ+ community.
In the timeless, minimalist photos, Zaya wears a half-up hairstyle that's parted perfectly down the middle. The long, face-framing tendrils look plucked straight out of a '90s movie, which is perfectly on theme for the retro revival happening in the beauty industry. Her ponytail also features plenty of volume and is a departure for Zaya; previously, she's been seen with short or slicked-back hair, so this is a new look for her.
Her Instagram comments perfectly demonstrate the overall response to her hairstyle, but the internet hasn't always been a safe space for her. Fortunately, her parents have been supportive and allies, further educating themselves on the community. Zaya's stepmom, Gabrielle Union, commented, "a vision."
In an interview with Essence in May, Union spoke a beautiful sentiment about the importance of inner beauty in a world where Zaya was previously criticized for how she chose to present herself. "There are a billion ways to exist because there are billions of people and each person has the ability to decide for themselves how they want to exist in the world and how they want to move through the world," Union told the publication. "We talk to her about resisting anti-Blackness and not centering Eurocentric beauty ideals."