The Teba as substitute for a tailored jacket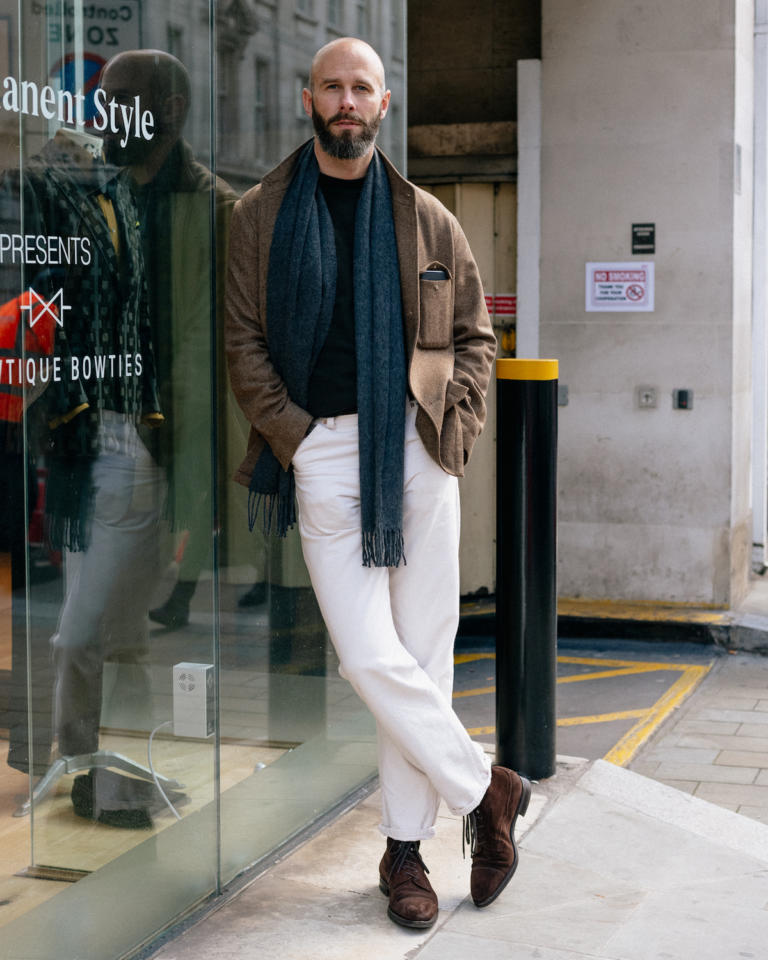 I don't think I've ever written about this jacket before, which is odd as I've had it a few years and wear it fairly often. 
It's the City Hunter 2 from The Armoury – their take on the traditional Spanish Teba jacket. 
It has the distinctive lapel shape of the Teba, where the collar is extended to meet the lapel in a point, but it's a little longer and slimmer. 
The chest pocket is also lengthened to fit (some) smart phones, the hip pockets have had their flaps removed, and there are some tailoring details like hand-sewn buttonholes. 
It's an elevated but also easier to wear version, for me, and would make a good first foray into the style for any PS reader that normally wears tailored jackets.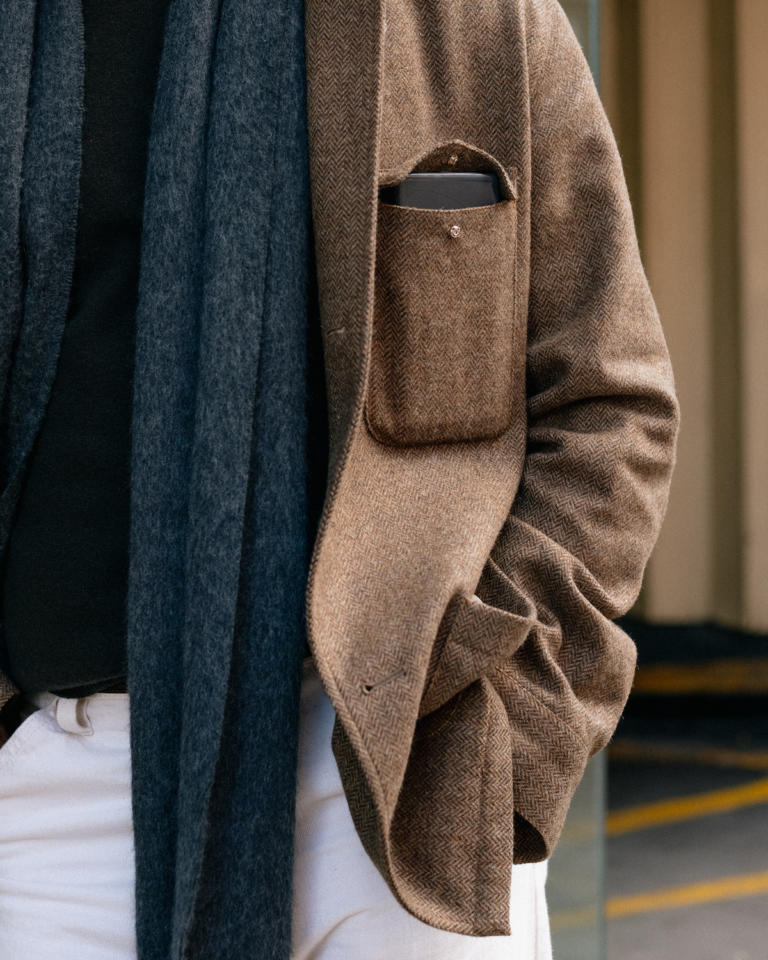 I'm writing about it now, of course, in the context of last week's article breaking down all the casual alternatives to a sports jacket. 
This probably sits at the smarter end of that spectrum, just below an unstructured but tailored jacket. It's also quite accessible for a Teba, given The Armoury's multiple stores and ability to do both MTM and MTO.
I know plenty of readers who work in offices where a tailored jacket is now a rarity, but still want something they can wear over a shirt – to smarten things up, to be flattering, to avoid having to carry things in their trouser pockets, and simply to provide a little bit of interest ( for themselves or for others).
If a normal Teba is a little big or boxy for any of them, too close to a chore coat perhaps, then interpretations like this can be good. 
(Some other houses do offer MTM, such as Burgos in Madrid, though they are less accessible for many.)
The material of this Armoury one is a nice mid-weight wool – around 11oz, the kind of weight you can wear indoors all the time – and of course it's a colour I've made into a bespoke jacket as well. 
If I had my way, I'd make the flap on that chest pocket a tiny bit bigger, and perhaps remove the snap, but these are small things. 
More important is the balance of the shape – the pattern cutting – which is one reason bespoke makers can struggle to make a jacket like this if they've never done it before. Although all physiques are different, it's impressive how well this RTW garment sits on my shoulders – how clean it is across the top of the chest.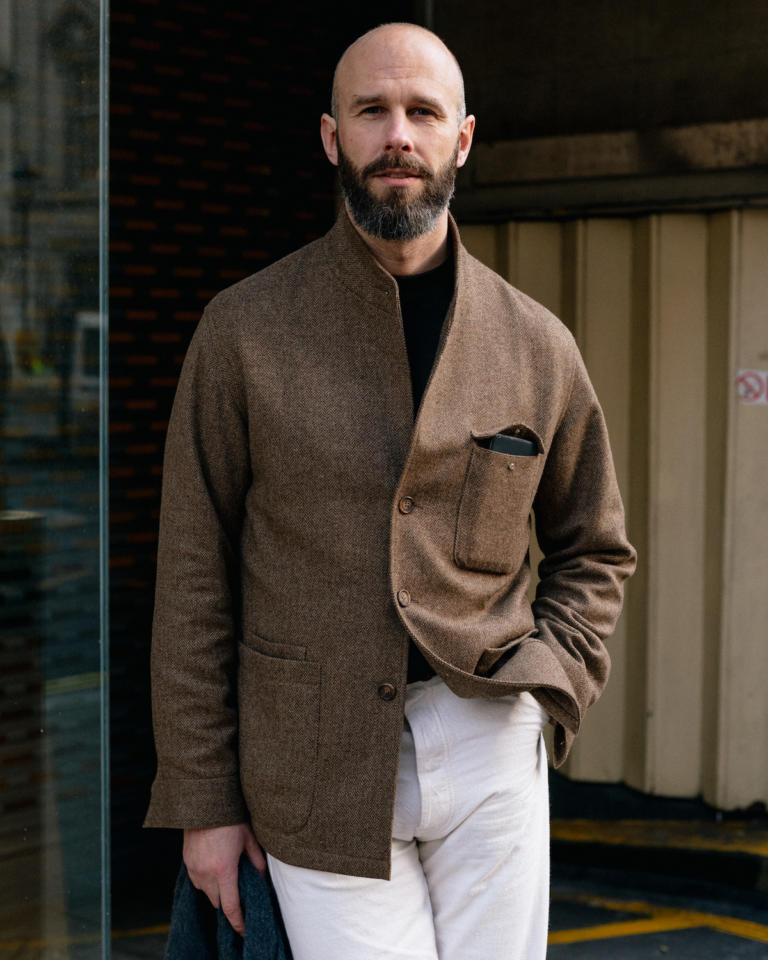 Tebas can be worn with the collar up (above) or down (above that).
Up is perhaps more casual, and starts to recall a Mao or Nehru suit. I prefer it to having the collar down with this model, however, as the lapel that's formed is quite slim. Some other Tebas have a larger front edge, and create a bigger lapel. 
The choice could also depend on physique. With my relatively long neck and face, it looks better to wear a collared shirt if the collar is down. A crewneck knit, as here, is better framed by the raised collar. 
The knit is the dark-olive cashmere from Colhay's, which I find makes a nice alternative to greys with a relatively cold-colour outfit like this. 
The scarf is an Aran from Begg & Co, as per usual, which again is great in that kind of wardrobe. The jeans are Drake's and the boots are Galways from Edward Green. 
There's a Rubato suede belt on the jeans, largely hidden, which adds another little point of interest. The hat is a PS Watch Cap.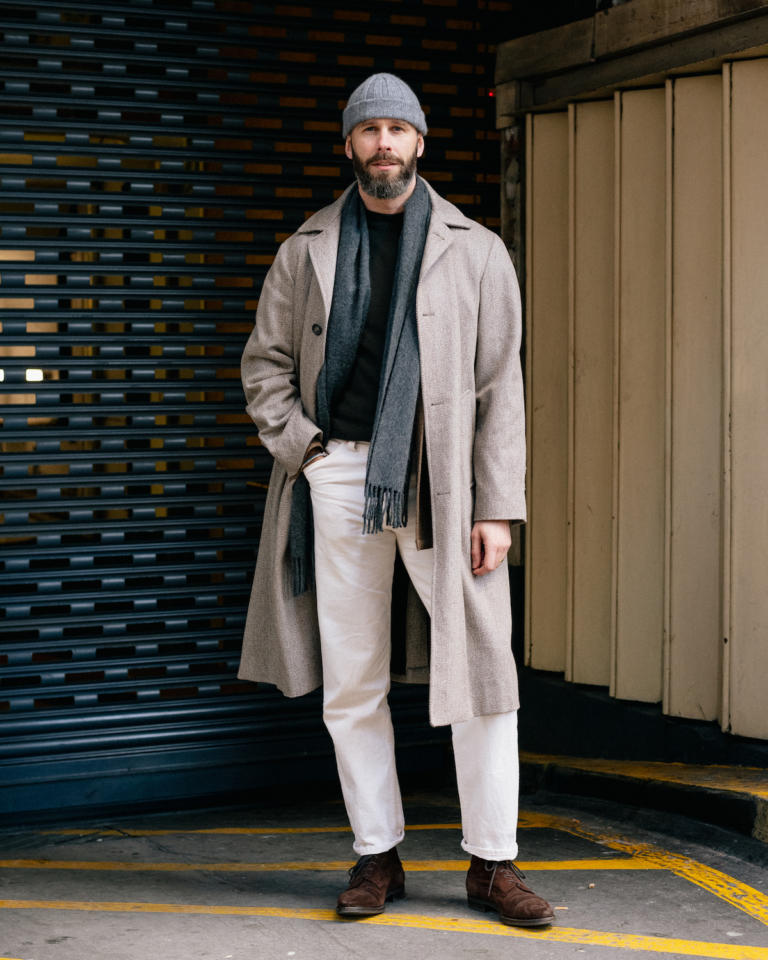 It's nice to show the Saman Amel coat again, because I haven't done so much – only previously here. 
Interestingly (at least for me) I like the collar of this coat worn down now, which is really how it is designed to sit – it's arguably a little small when worn up. 
I remember discussing this with Dag and Saman when I had the coat made, and swearing I'd always wear it up. I think I've softened a little on that when it suits the style. 
One of the reasons I like a popped collar is the shape it creates around the face. With the collar down, wearing a scarf just inside helps create a lot of the same effect.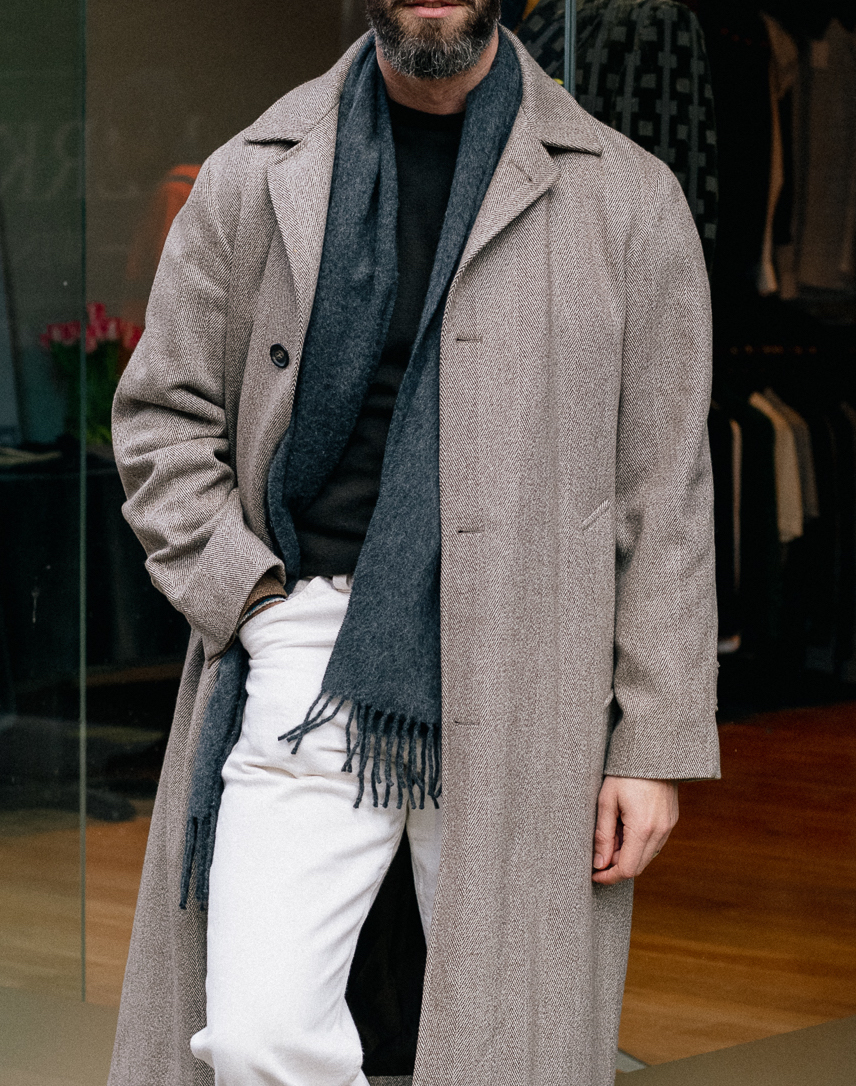 The Armoury's City Hunter 2 ranges in price from $695 for a jersey version to $1025 for this model. The price reflects the unique model, but also a higher level of make with the handsewn buttonholes, and techniques like edge-to-edge seams on the jersey. 
Well-known Spanish makers include Bel & Cia in Barcelona and Burgos in Madrid. The most widely sold though is Justo Gimeno, who is sold at Fox Brothers, Beige, Michael Jondral and others.
There is a range to try on at the Fox pop-up on Savile Row at the moment – at 20 Savile Row, just this week. And Oliver Brown has a handful in London too.
Photography: Alex Natt