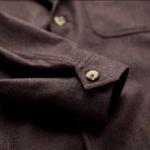 The Merchant Fox: All the casual jackets reviewed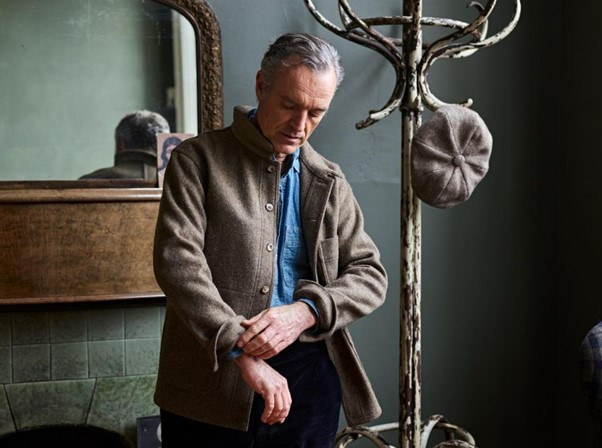 By Manish Puri
In between short walks to the kitchen to restock on mince pies and watching Home Alone for the 83rd time (this genuinely may be an understatement), the festive period offers a singular opportunity to contemplate weighty matters concerning the passage of time. When did my nephew grow taller than me? When did Quality Street swap the foil wrappers for paper? And when did The Merchant Fox's offering become so extensive?
Launched in 2011, The Merchant Fox is the retail arm of the clothmaker Fox Brothers and one of the brands showcased at the first Permanent Style pop-up back in 2017. My recollection is that the range was tasteful but relatively small: some F. Marino ties, a selection of cloth caps and, of course, a splendid array of vintage bolts.
However, as part of last December's pop-up, The Merchant Fox returned and filled 20 Savile Row with a wide assortment of gowns, shirts, trousers and jumpers; so much so that I walked straight past the shop on my visit – my peripheral vision disregarding it as a pop-up on account of how well laid out and amply stocked it seemed.
Once inside it quickly became apparent that our planned article providing an overview of The Merchant Fox's range would be quite a challenge; and so, in keeping with Permanent Style's recent theme of exploring casual jacket alternatives, I've focused this piece on their jackets, overshirts and Tebas, which are often collaborations with specialist makers using Fox Brothers cloth – a big point of consistent taste and quality.
The pop-up provided a unique opportunity to see and try everything in person. Hopefully my rundown helps answer all those style and fit questions you might have had remotely.
The Utility Jacket (£570 to £720) (above) is made for The Merchant Fox by Hervier Productions – a family-run atelier that Fox's Managing Director Douglas Cordeaux stumbled across while on holiday in France – and has traditional details like piped pockets and a smaller scythe-shaped collar.
The jacket combines the style of a chore coat (straight hem, triple patch pockets and one internal pocket) with the punch of Fox's toughest cloths. The navy, for example, is cut from a 34/35 oz military issue lambswool; a cloth that – to borrow Malcolm Tucker's put-down of a cabinet minister – is so dense light bends around it.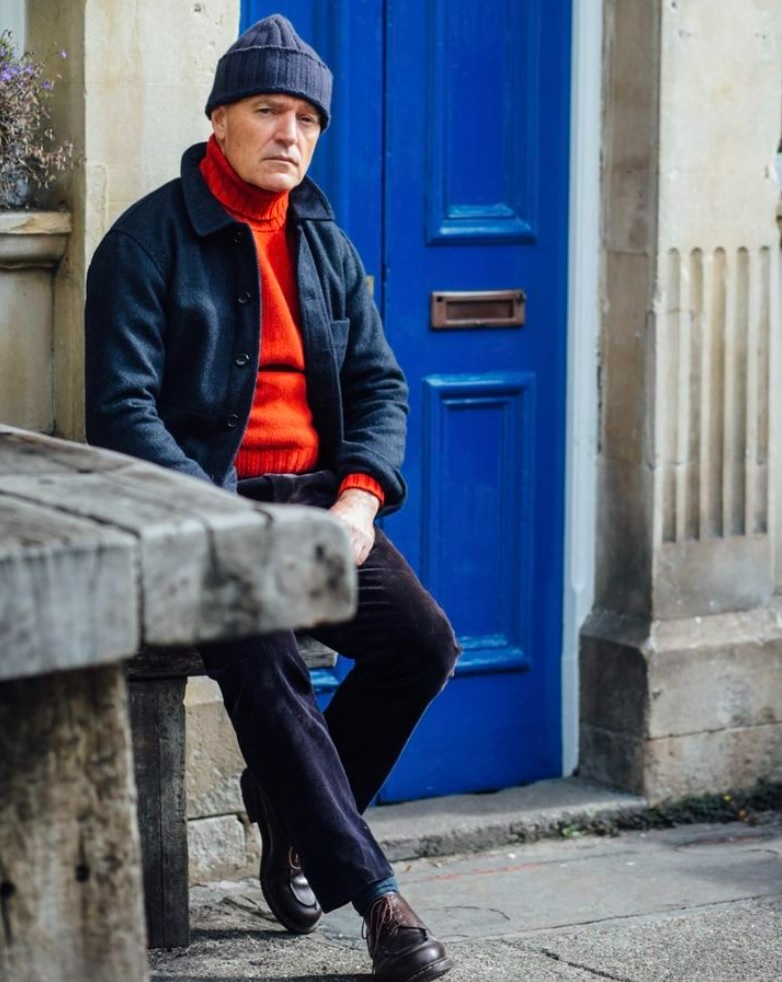 The robust nature of the fabric does make it less refined than some of the other chores in my recent guide, but if you like the short style and small collar, it would serve as faithful partner to knitwear, heavier trousers and casual shoes and boots.
Most of the Fox garments I tried worked well for me in size medium (I generally flit between small and medium depending on the brand and the style), but the Utility Jacket had a slim sleeve finished with a barrel cuff. Some folks will no doubt be comforted by the snug embrace of the wool and should go for their usual size. I'm of a somewhat fussier disposition and would be happier going for a size up.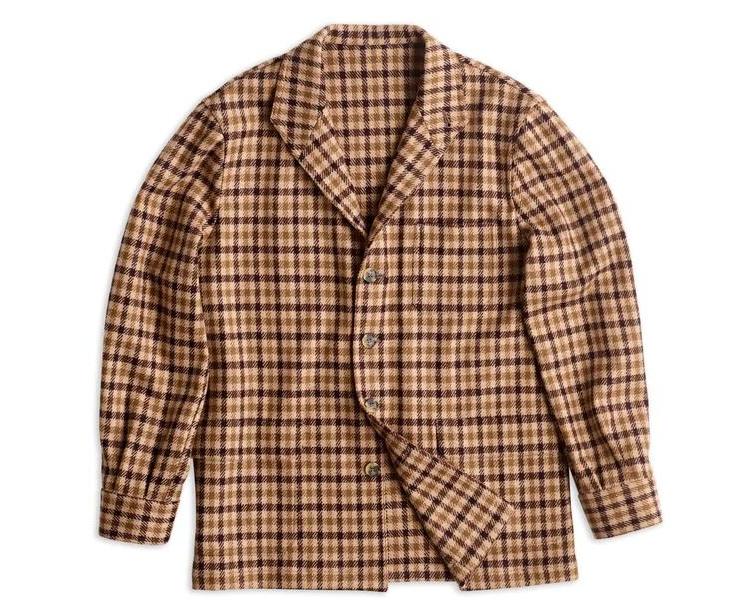 Fox works with Spanish tailors Justo Gimeno on a few different models, and I tried their Teba and Safari jacket.
The Tebas (£650 to £795) adhere to the classic template: shirt-sleeve shoulders and cuffs, ventless back, four button front, a breast patch pocket shaped like your favourite coffee mug, hip patch pockets (some models with flaps and some without) and an internal pocket with button. All crowned by the signature notchless lapel – a shawl collar sketched by a Cubist.
I tried a medium which was perfect – sitting just off the shoulder with room for a Rubato jumper and an ideal sleeve length (you may recall from the chore coat guide that I had a devil of a time finding something that wasn't too long in the sleeve).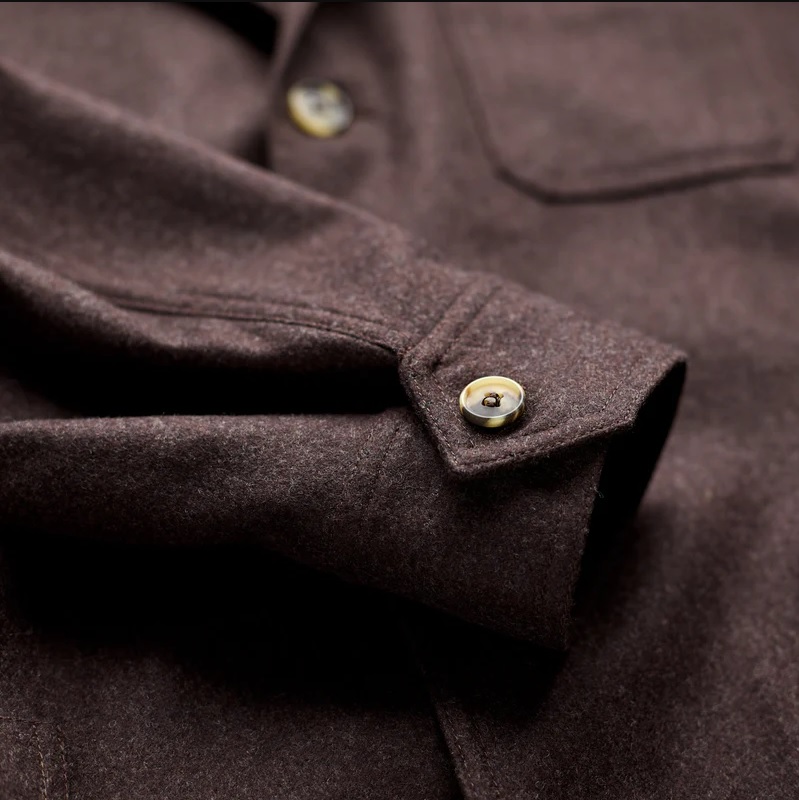 Whilst you can source Justo Gimeno Tebas from other retailers (Beige Habilleur among them) what you won't find is the range of Fox Brothers cloths. Compared to the Utility Jacket the fabric options are still geared towards autumn/winter but are substantially lighter (12/13 oz) and finer (merino). I particularly liked the char-brown flannel (above), the ambiguity in hue leads to a tug-of-war of outfit possibilities: should I lean into dark and tonal, or contrast with warmer, earthier colours?
If you prefer the meaty cloths used for the Utility Jacket you can also look at the Wellington Fox navy coat or the Khakee Town & Country Coat – both available to pre-order and with some design details carried over from the Teba.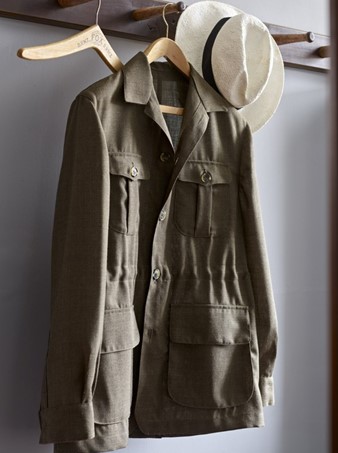 I'm usually not super keen on field/safari jackets. I don't know if it's the incongruity of a nipped/belted waist with four bulky pockets orbiting it that doesn't appeal. Or perhaps it's just the sheer number of pockets – I have enough difficulty remembering where I put my phone in a two-pocket bomber.
However, I really liked the Fox Safari Jacket (£755 – returning in the spring) and was won over by the fit, the collar shape and the crisp lightness of the cloths (such as the olive-green Fox Air above), which I think help reduce the volume of the hip bellows-pockets compared to say, a stiffer cotton canvas.
The Safari Jacket comes with an internal drawstring to cinch the waist and a central vent in the rear.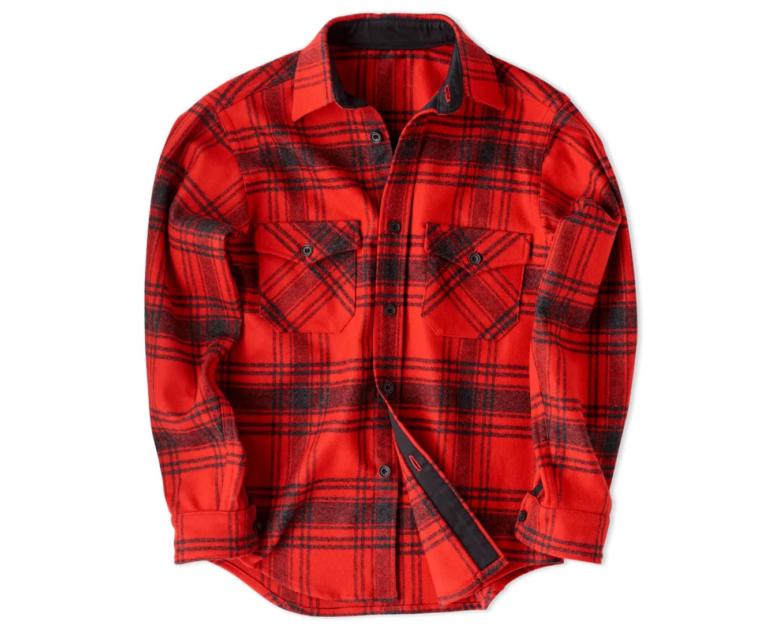 In Simon's recent article on overshirts he neatly defined two shirting categories: those that feel like a heavy version of a regular shirt and those that are more akin to a woollen jacket.
The overshirts (£240 to £490) made by The Merchant Fox in Casentino wool (below), flannel (above) or tweed – all weighing in around 17/18oz – sit firmly in the latter camp. The newer shirts have a straighter hem (which generally looks better untucked), two breast flap pockets and bands of ribbon on the reverse of the placket and the collar – a good way of reinforcing buttons and buttonholes, keeping heavier wool off your bare neck, and usually an indication that the shirt is a layering piece rather than something to tuck in.
There are also a couple of moleskin shirts which are very similar to the overshirts but, at around 8oz, would make better candidates for trouser tucking.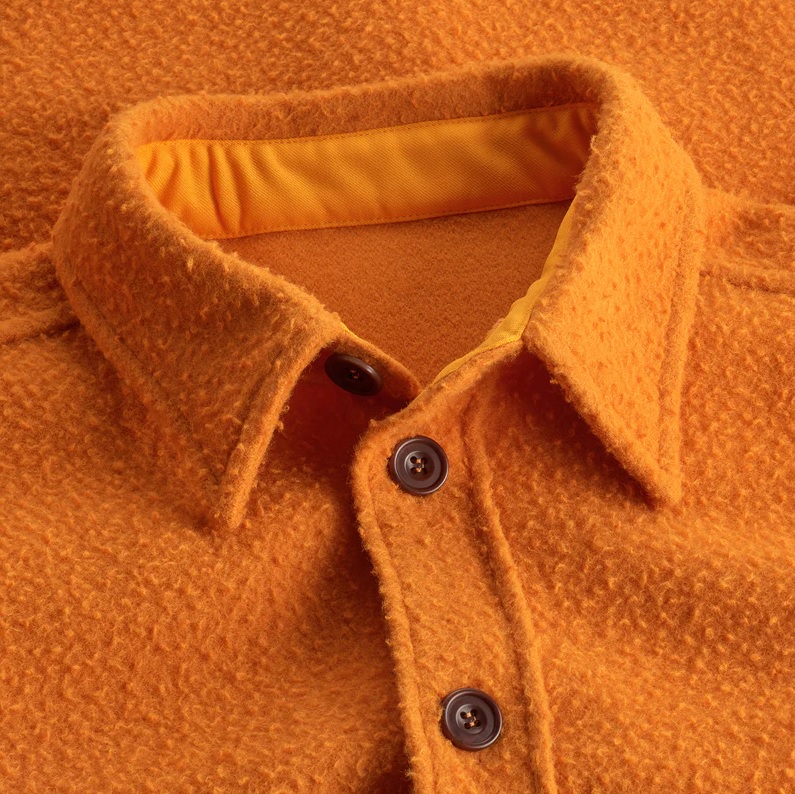 One nice detail on the overshirts (which are mostly made by Jokoto Tailoring in Bristol) is the placement of a button just a few centimetres below the collar button. This strikes me as a good way to keep the chest fully covered on a chilly day while teasing your admirers with a glimpse of whatever scarf/neckerchief/bandana you're rocking at the neck.
The question of sizing depends on what sort of layering piece you want it to be. If you want your overshirt to top a T-shirt or shirt at most, then I'd recommend your usual size. If your layering style has been likened to Sanka from Cool Runnings (thermal T-shirt, shirt, thick jumper, scarf, hot water bottle, the works) I would size up.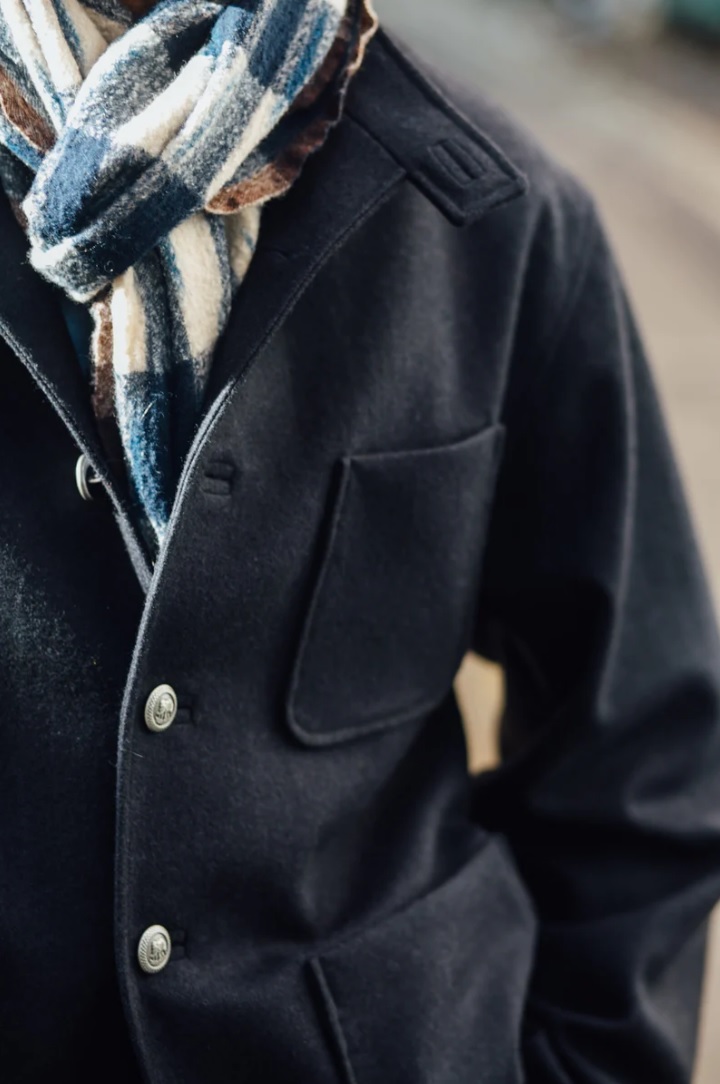 One final piece to call out is the Borestière jacket made by Chato Lufsen from a couple of Fox Brothers cloths – a 17/18oz char-navy twill tweed and an 18/19oz flannel.
The jacket wasn't available when I went in store, but I'm tempted on the strength of the cloth choice and Tony Sylvester's write-up of his commission of a modified Bores jacket alone.
Many of the garments discussed here are available on a made-to-order basis. For example, the Teba jacket can be made for customers in a variety of styles (classic, pocket, safari or River Tone – which is fully lined), with simple tweaks made to the standard block (sleeve length, hem length, etc), and,
most crucially, in the Fox Brothers cloth of your choosing. Prices for MTO will vary accordingly but you can get more information by reaching out directly to The Merchant Fox .
Before I sign-off I'll leave you with a tip if I may: The Merchant Fox regularly unveils small batch, limited edition versions of products via their newsletter, so I would recommend signing up.
As ever, all questions happily answered in the comments below.
Manish is @the_daily_mirror on Instagram