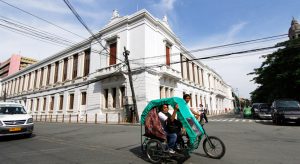 RATES of government securities on offer this week could track secondary market yields' broad decline ahead of the US central bank's policy review and dovish hints from the Bangko Sentral ng Pilipinas (BSP) chief.
The Bureau of the Treasury (BTr) will auction off P15 billion in Treasury bills (T-bills) on Monday, made up of P5 billion each in 91-, 182-, and 364-day papers.
On Tuesday, it will offer P35 billion in reissued 25-year Treasury bonds (T-bonds) that have a remaining life of 12 years and eight months.
"The upcoming Treasury bill auction yields could continue to correct slightly lower, after the comparable short-term PHP BVAL (Bloomberg Valuation Service) yields again mostly slightly declined week on week," Rizal Commercial Banking Corp. Chief Economist Michael L. Ricafort said in a Viber message.
"The upcoming 13-year Treasury bond auction yield could range at the 6%-6.2% levels, as the latest 12-year PHP BVAL yield stood at 6.1205% as of Jan. 27, 2023," he added.
He said markets are expecting a 25-basis-point (bp) rate hike from the US Federal Reserve at its Jan. 31 to Feb. 1 meeting, which could be matched by the BSP in its own review on Feb. 16.
"Recent dovish signals locally, such as possible end of monetary policy tightening in the first quarter, with the possible peak in the local policy rate at 6%… would also be considered by the markets," Mr. Ricafort said.
A trader said in a Viber message that T-bill rates could move sideways, while the reissued bonds could see slightly higher yields.
"We are seeing some upside on rates, especially for the 13-year bond reissuance, given the positive GDP (gross domestic product) print, which could mean that BSP can still hike policy rates to avoid the widening of the inflation base," the trader said.
Meanwhile, UnionBank of the Philippines, Inc. Chief Economist Ruben Carlo O. Asuncion likewise said in a report that they see the bonds on offer on Tuesday to fetch rates of 6.05% to 6.2%.
At the secondary market on Friday, the 91-day T-bill's rate rose by 6.37 bps week on week to 4.3757%, while the 182- and 364-day papers declined by 4.42 bps and 5.84 bps to yield 4.9535% and 5.3947%, respectively, based on the PHP BVAL Reference Rates published on the Philippine Dealing System's website.
Meanwhile, the 25-year debt paper saw its yield drop by 9.88 bps week on week to 6.4166%, while the 10-year bond, the tenor closest to the remaining life of the issue on offer on Tuesday, fetched 6.0271%, down by 19.25 bps.
Investors widely expect the Fed to dial down its rate increases as early as its meeting this week amid easing inflation.
The US central bank raised its fed funds rate by 50 bps in December to a 4.25%-4.5% range following four straight 75-bp increases, bringing total hikes for 2022 to 425 bps.
Meanwhile, BSP Governor Felipe M. Medalla said this month that the central bank is likely to raise benchmark rates by 25 or 50 bps at its meeting on Feb. 16 to anchor inflation expectations.
Mr. Medalla also said the BSP will likely end its tightening cycle with one or two more increases this quarter, which will bring its key rate to around 6%.
The BSP hiked borrowing costs by 350 bps in 2022 to bring down elevated inflation, with its policy rate now at 5.5%.
Last week, the BTr raised P15 billion as planned from the T-bills it auctioned off as bids reached P62.013 billion, more than four times the amount on offer.
Broken down, the Treasury raised P5 billion as programmed via the 91-day T-bills with tenders reaching P22.36 billion. The average rate of the three-month papers dropped by 3.9 bps to 4.211%, with accepted rates ranging from 4.2% to 4.22%.
The government also made a full P5-billion award of the 182-day securities as bids for the papers reached P19.08 billion. The six-month tenor was quoted at an average rate of 4.912%, declining by 5.5 bps, with accepted rates at 4.89% to 4.925%%.
Lastly, the BTr borrowed P5 billion as planned from the 364-day debt papers as demand for the tenor reached P20.573 billion. The average rate of the one-year T-bill inched down by 2 bps to 5.428%. Accepted yields were from 5.393% to 5.473%.
Meanwhile, the 25-year bonds to be auctioned off on Tuesday were last offered on Oct. 25, 2022, where the government made a partial award of its offer. The Treasury raised just P26.139 billion from its offer of reissued 25-year bonds, less than the programmed P35 billion, even as total bids reached P46.988 billion.
The bonds were awarded at rates ranging from 7.625% to 8%, bringing the average to 7.887%, 3.8 bps lower than the 7.925% quoted for the bond when it was first offered on Sept. 28, 2010, and also 11.3 bps below the 8% coupon for the issue.
The Treasury wants to raise P200 billion from the domestic market this month, or P60 billion through T-bills and P140 billion via T-bonds.
The government borrows from domestic and external sources to finance its budget deficit, which is capped at P1.47 trillion this year or 6.1% of GDP. — A.M.C. Sy