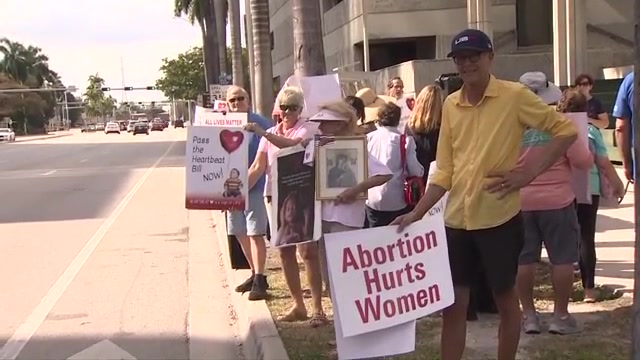 Dozens of demonstrators gathered for a pro-life rally in downtown Fort Lauderdale, calling for state legislators to pass a bill that would make it harder for women in Florida to get an abortion.
7News cameras captured demonstrators chanting and holding up signs as they lined the sidewalk outside the U.S. Federal Building, Saturday afternoon.
The event was one of several rallies held across the nation this weekend in support of abortion restrictions ahead of the 50th anniversary of the U.S. Supreme Court's Roe v. Wade decision.
Participants in Fort Lauderdale expressed their support for the state legislation, nicknamed the "heartbeat bill," that would prevent abortion after a heartbeat is detected by ultrasound.
The architect of similar bills that have passed in 14 states wants Florida to be next.
"The time of talking, the time of marching, the time of waiting is over," said Janet Porter, the founder and president of the organization Faith2Action. "We've got Republican supermajorities, and it's time that they actually put their faith to action. Instead of using babies to get elected, we need them to use their elections to save babies. This is the moment."
Critics of these bills argue that an embryo does not have a developed heart at six weeks' gestation, and calling it a "heartbeat" is medically inaccurate.
Saturday's rally was held a day after the 50th annual March for Life took place in Washington, D.C.
"We will abolish abortion," demonstrators chanted during the march.
Friday's march marked the first time the anti-abortion rally has taken place since the Supreme Court overturned Roe v. Wade, which took away the constitutional right to abortion.
Jeanne Mancini, the president of March for Life, said on its website, "This year will be a somber reminder of the millions of lives lost to abortion in the past 50 years, but also a celebration of how far we've come."
Not everyone has the same perspective.
"Catholic Ireland provides women with more rights on reproductive health care than do parts of America," said Department of Health and Human Services Secretary Xavier Becerra. "It's just strange to talk about America going backwards instead of moving forwards."
Months after the Supreme Court struck down the landmark ruling, some say the issues that need attention are changing.
"What happens when these unwanted children are born? Who will take care of them?" said U.S. Rep. Nancy Mace, R-S.C. "We need to have ideas that are forward facing, that take ideas from both sides of the aisle, because this issue isn't going away. It affects women every single day."
To mark the 50th anniversary of Roe v. Wade, Vice President Kamala Harris is scheduled to be in Tallahassee on Sunday to deliver an address.
A senior White House official said Harris will speak about the Biden administration's commitment to abortion access and will try to make the case for national legislation to protect reproductive rights.