With Bitcoin surging past $20,000, altcoins like DOT (Polkadot) have been riding the broader crypto rally which started since the beginning of 2023. According to CoinGecko, the token is trading at $5.94, and has risen by more than 12% in the past 24 hours and 33% in the weekly. 
This was caused by market optimism caused by positive Consumer Price Index (CPI) data that was released Thursday. With the main components of the CPI going deflationary, the market may continue the sharp rally that it started the year with. 
DOTs Connected
Polkadot, as an ecosystem, has been on a roll lately. According to Santiment, Polkadot has been seeing a strong development activity in recent days, adding on to the already bullish momentum of the overall crypto market. 
Polkadot also reached over 1 million DOT in nomination pools, making staking on-chain more viable. Crypto.com also released a recent post regarding the current market. Polygon ranked 4th place in TVL with a 5% change in the past seven days.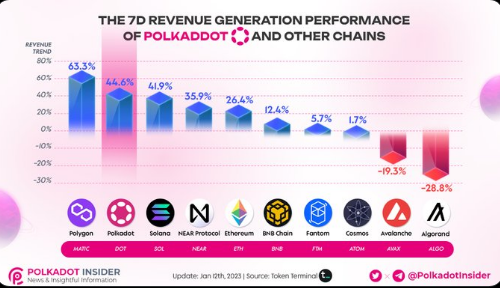 This can be associated with the recent developments on-chain and the recent crypto market rally. Accompanying these are the improving macroeconomic trends. With the CPI dropping to 6.5%, DOT can continue its momentous climb in the next few weeks or months if the momentum continues. 
Although some analysts are pessimistic that this rally is for the long term, the overall on-chain performance of the ecosystem will be supporting the token and breaking further resistance. 
Polkadot: Going To The Moon?
With the token's current momentum, it is possible that DOT will continue to make higher highs. DOT may be in a position to continue its climb. The token's high correlation with major cryptocurrencies will also pull the token upwards.
With Bitcoin testing the $21,422 resistance, the coin's upward momentum will be a wave for DOT to ride in the next few weeks or months. This means that the token would benefit with improving macroeconomic trends. 
Short and medium term, DOT can cross the current $6 resistance price range to reassure investors and traders that the rally will continue. 
With improving macros and an overall bullish outlook on crypto, DOT should be able to reach $7 resistance with ease. However, if BTC will enter a correction phase, the token can experience a momentary loss in upward momentum.
Investors and traders who are holding DOT are currently facing great gains in a very short period of time. With this in mind, holders of the token should be monitoring the DOT's charts as this high of a rally can be faced with a tight correction phase. 
-Featured image by EURACTIV