Luxury chore coats compared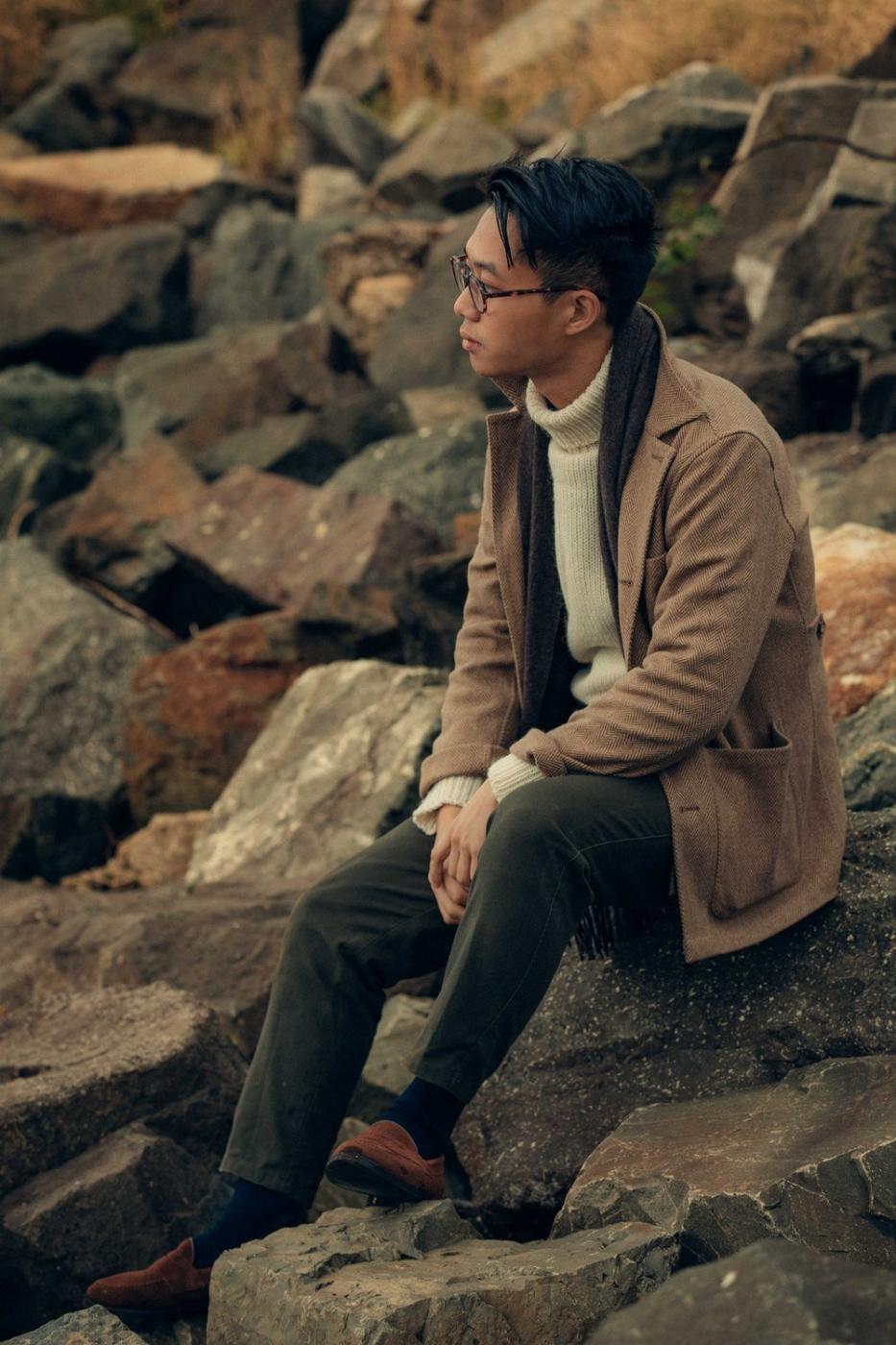 By Manish Puri
Not all chores are made equal. Some take longer, some require more exertion, and some involve going out into the cold. On a typical weekend you'll find me frantically searching for loopholes in the chivalric code so I can cherry pick the best chores without guilt. "Yes, darling, why don't you perform the task of taking the smelly bins out into the tundra and I'll stand in the kitchen listening to a podcast whilst soaping dishes in lovely hot water. No, I understand your reservations, but my responsibility is going to take much longer."
And so, it stands to reason that not all chore coats are made equal either. Traditional working models made from cotton twill are great – storied, hard-wearing, versatile and relatively affordable (especially if you go down the vintage/second-hand route). They're also plentiful: most brands have a version.
But this guide focuses on the other chores, the chores of distinction. These follow the basic design template set out by Simon here – straight edges and triple patch pockets – but are fashioned out of unusual and luxurious materials, with considered points that elevate them into a real alternative to a tailored jacket.
In this guide I've selected six such chores for an in-depth look, and supplemented them with another six options at the end of the article. Brands are presented to you in ascending price order.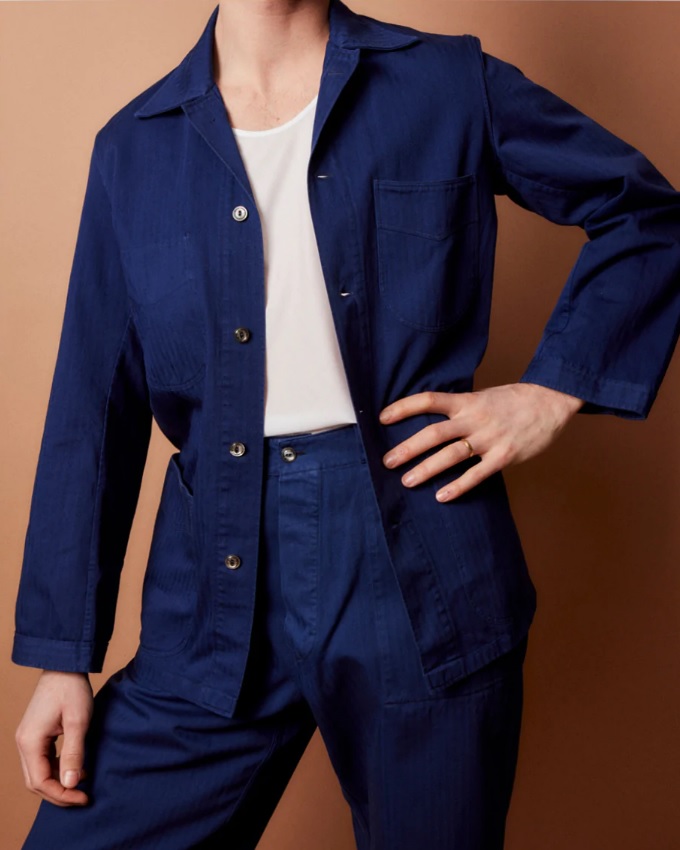 LEJ Cat Posh Plage Coat (£275 to £425)
I was fortunate enough to spend a few weeks travelling in Mexico this year and, with temperatures expected to be in the high-30s celsius for most of the trip, had to reconcile myself to the fact that jackets and outerwear would just be dead weight.
I did permit myself one piece for holding travel paraphernalia at airports, and to slip on as protection from aggressive air-conditioning. The item that I chose was LEJ's Plage coat, largely because of how comfortable it is to wear.
The jacket is cut pretty straight through the body ,with the option to cinch the waist slightly using the martingale (half-belt back). The sleeve is fuller than any other chore in this guide and that's something I really like (heck, if you're ever required to do some actual chores you might want to be able to swing your arms a bit), though I appreciate some readers may prefer a more tailored sleeve.
It's also something of a chameleon. The electric navy (above) is the sexy English cousin of the classic bleu de travail jackets. My green herringbone twill (presently out of stock but due back next spring) has such a strong jungle-jacket vibe I can virtually smell the DEET. This white cotton would surely be worn by the preternaturally attractive hospital staff of a US medical drama.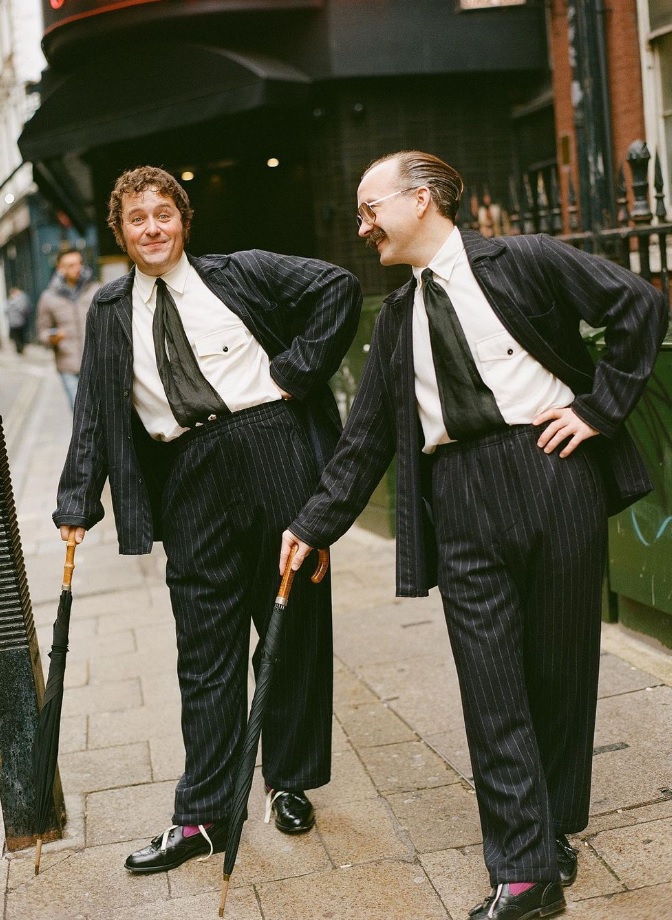 Because of the fuller fit and wide point collar (which is around 9.5cm compared to 6.5cm for The Anthology) the Plage coat does lean more casual and, depending on the cloth, possibly into outerwear territory.
That said, I wore a newly purchased black and white houndstooth tweed Plage to my office ahead of our evening Christmas party and I'm pleased to report it was well-received; alas, I can't say the same for my dancing. I tempered the boldness of the check with the most neutral items in my wardrobe: white shirt, charcoal flannels and black loafers.
Two other details that I really like on the Plage are the finishing on the inside of the patch pockets, and the buttons. The former is a thick cotton ribbon, stitched on the inside of the coat to buttress the external seams at the pocket's opening. The latter are a smoky and lustrous mother of pearl.
Should you consider fastening buttons (smoky or otherwise) to be an altogether tedious experience you could also look at LEJ's quick release Plage coats. Identical to the standard Plage but with slim ties replacing the buttons and martingale. Yet another chameleon as the quick release element nudges it towards a mandarin jacket.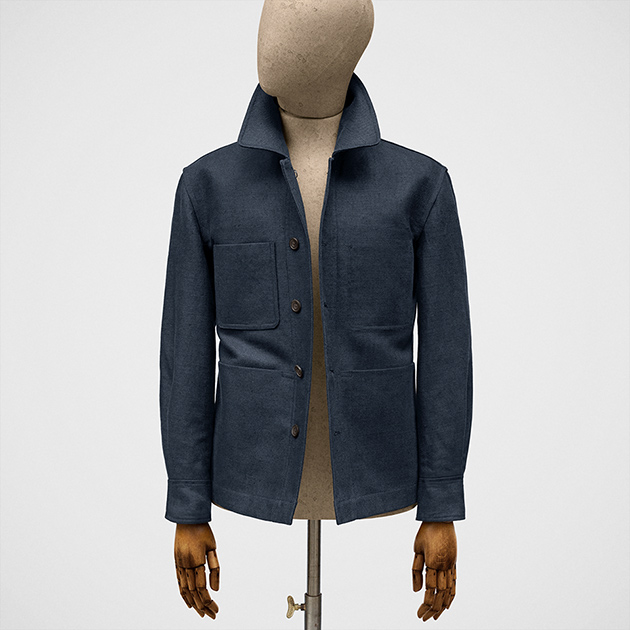 S.E.H Kelly Work Jacket (£396 to £480)
Simon memorably described SEH Kelly's products as made of "materials…so lovely I could eat them". Having been to the workshop, I completely understand that sentiment and, if I may extend the food analogy, I see their products as the midnight buffet at a wedding: there's never enough for everyone so you have to be quick.
Which is to say there is currently limited stock of SEH Kelly's Work Jacket (chores are too trivial a labour for something as hardy as this) available online. However, these guides were never intended to encourage a buy-now-think-later attitude (the reverse is so much healthier), and so I'm happy to feature the Work Jacket if it helps prepare readers for the restock due early January – expect to see jackets contrived from the same stay-wax cotton as the Duster Coats.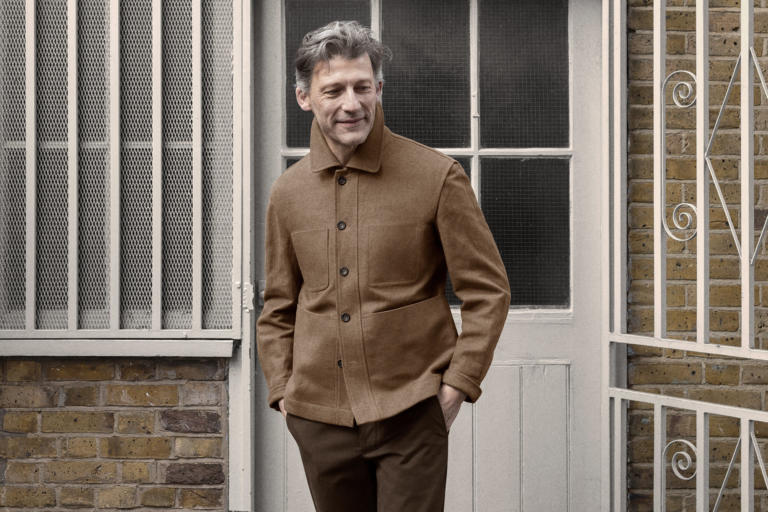 Details abound in the Work Jacket: the collar is beautifully shaped and aches to be popped; the standard left-breast pocket has crossed the aisle and now occupies the right leaving a faint shadow of its former self (created by the stitching of the left-hand internal pocket); patch pockets are replaced by deeply satisfying and deeply deep bucket pockets that run the width of the jacket front; an internal jetted pocket brings the count to five; the sleeves are inserted under a lapped shoulder seam with a small ventilation gusset near the armpit; the interior is partially self-lined and satin lines the sleeves.
Dark horn buttons are to be found in all directions: securing the thick cuff at the end of the sleeve, assisting the rear side-tabs to pinch away excess, and attached to the front with a ring-and-eyelet system (butcher's buttons) that makes them removable.
In terms of cut, the Work Jacket is amongst the shortest in the guide – just a couple of centimetres shy of a blouson/bomber length – which works well for me given my penchant for higher-waisted trousers but might not be for everyone.
The colour options are uniformly excellent and put me in mind of deepest winter: moody and drab (those are compliments); I'm entirely comfortable gazing into the stunning Abyss Blue hopsack (pictured at the top of this entry) and having it gaze right back at me.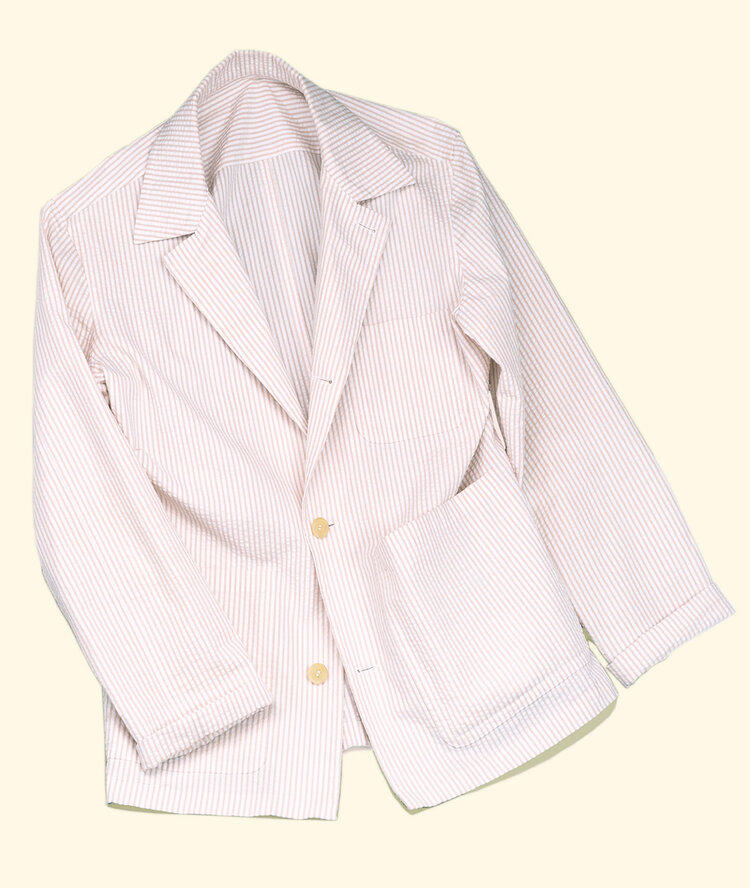 The Anthology Lazyman ($525 to $850)
I think it was the Permanent Style pop-up in 2019; Bryceland's, Adret and The Anthology were all in residence, and I was trying on the first iteration of the Lazyman in a pale striped seersucker (above). From across the store, Bryceland's Ethan Newton looked up from the counter, saw me considering the jacket and gave a silent nod of approval. I bought it then and there, and haven't lived to regret the snap purchase.
The lapels nod to 1950s riviera style but with a restraint that allows the jacket to feel appropriate to most situations – suitably easy going for a holiday stroll on the beach but sufficiently elegant for a meal with friends. The waist is lent shape by tab adjusters on the back.
These details help to make the Lazyman, out of all the coats in this guide, the one I think works best with a shirt and tie (see Anthology co-founder Buzz in the fawn herringbone below).
In particular, the fuzzy navy bouclé (made of a mix of wool, baby llama and cashmere, with a bit of polyamide to bolster the delicate fabrics) and pale grey herringbone could underpin a fool-proof wardrobe for all but the most traditional of work environments.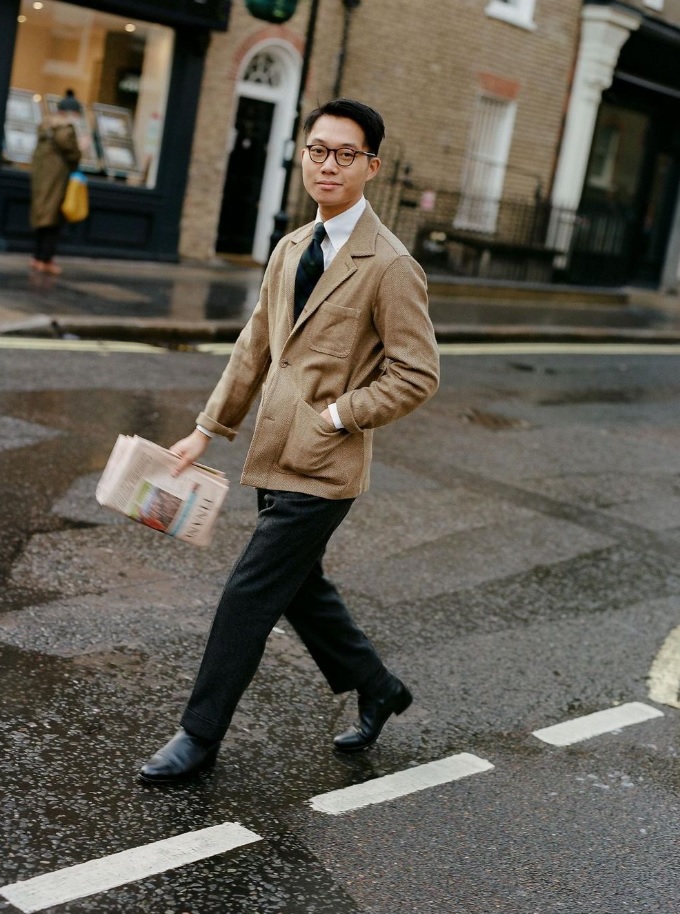 Even though I think the jacket is well suited to shirt-and-tie getups, I should caution readers that it is short. Not by the standards of most chores and casual jackets, but if you're fixed on a blazer alternative that covers your seat this isn't the right choice for you.
The Anthology also offers the Lazyman in various cashmeres on a made-to-order basis. This isn't something that's readily available (the only other brand that I could find selling a 100% cashmere model was Zegna – discussed later) and I think it would pair well with the Lazyman style.
The other thing I've always loved about this jacket is the patch pocket shapes. The bottom corners curve almost imperceptibly through 90 degrees, while the short and stout breast pocket (set marginally lower than standard) reveals a flash of your sunglasses, which is a nice way to add some visual interest to a simple outfit of jeans, T-shirt and chore.
The jacket fits true to size. My purchase was an IT48 which serves well as a summer piece because I'll usually wear it open with a light shirt or polo. However, were I to pick up one of the heavier winter options I'd go for a 50 to ensure there's adequate room for some beefy knitwear.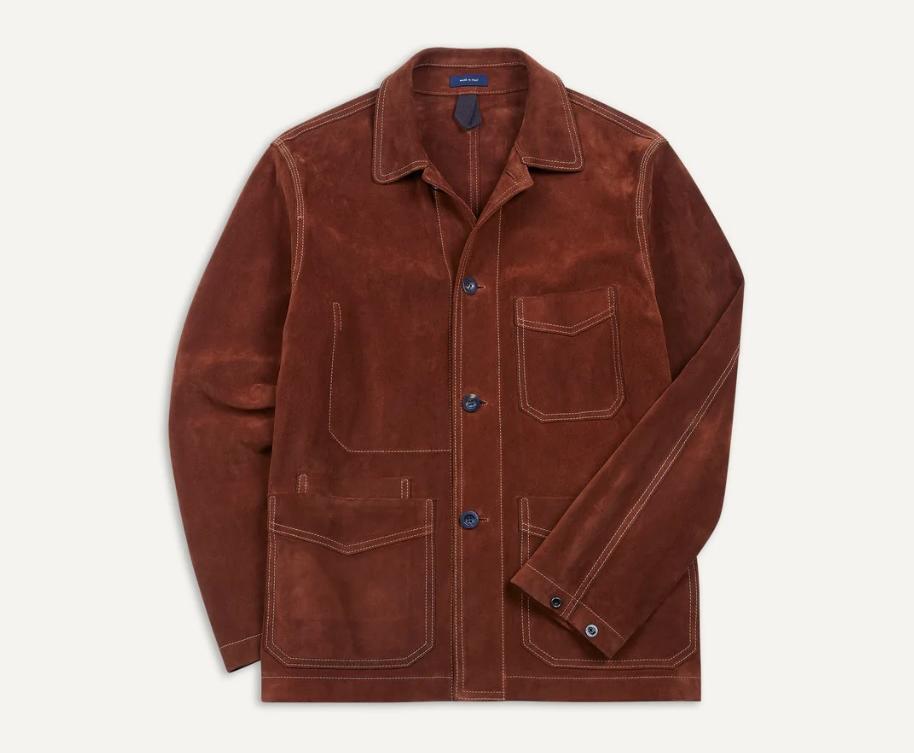 Drake's 5-Pocket Chore Jacket (£475 to £1295)
As one of their signature pieces, Drake's is always a good place to start a hunt for a quality chore coat, and two things stand out to me from their offering.
The first is that their cloth range, size range and size availability is consistently stronger than the other brands in this guide. Over the years, they've made chores out of linen, wool, cotton twill, corduroy, denim, Tencel, canvas and suede. Right now, there are 14 different jackets to choose from, in seven sizes (34 to 48) and, even in the run-up to Christmas, there remains good availability in the most popular sizes.
The second thing is that Drake's are the best at injecting personality and a sense of play into their chore coats, by stocking vibrant colours to supplement the core blues, browns, and greens. In the past I've had my eye caught by their fire-engine-red suede, rose-pink selvedge corduroy and tangerine Japanese linen.
Admittedly, the range right now is relatively subdued but I'm sure as we head into 2023 some fun colours will be unleashed.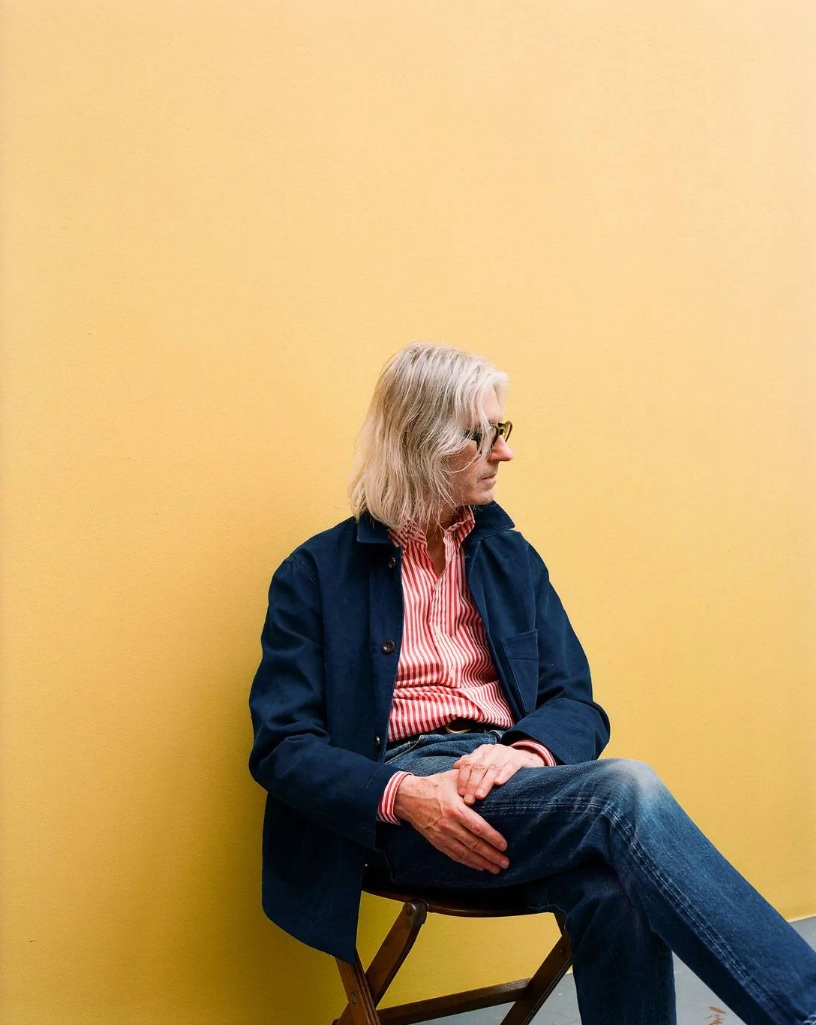 Each jacket comes with five pockets – one internal pocket, three standard patch pockets and a patch ticket pocket. I'm generally not a fan of the Drake's ticket pocket (I once unpicked one from an otherwise superb seersucker jacket) but I think it works for a chore, where the pockets are there to be filled.
Drake's make minor style adjustments in recognition of the traits of each fabric. The rust suede jacket (pictured at the top of this entry and coveted by me for just shy of four years – sad aren't I?) has a snap button on the cuff so you can tighten the sleeve opening like outerwear. The denim chores have rivet buttons to secure the pockets (just as you would find on a pair of jeans).
I tried both the size 38 and 40 and there wasn't much between the two – the only place I really noticed a big difference was in the width of the arms. As with The Anthology earlier, I would recommend going with whichever size suits your style and layering preference.
Drake's have also launched an Artists Chore Jacket which blends a chore with a smock. The result is a more generously proportioned fit (the size 38 was great), a mandarin collar, knotted buttons, and a curious round pocket with a vertical opening – if anyone knows its provenance I'd love to hear.
Anderson & Sheppard No. 2 Jacket (£1095 to £1395)
I've had an Anderson & Sheppard No. 2 jacket in linen tobacco for four years (snaped up after waiting 18 months for it to go on sale at Mr. Porter), and in that time it's become a prized possession – so much so that I picked it for one of my three outfits when asked to be part of the Reader Profile series.
My opinion of the jacket echoes what I said in the summer about the Anderson & Sheppard polo, which is that there is no attempt to justify the price (high as it is) through extravagant or redundant details. The design exudes confidence through its simplicity, the proportions are bang, the finishing is great (the horn buttons are anchored by small backing buttons) and the cloth choices are, as so often is the case with A&S, impeccable.
My Irish linen (below) has enough heft but still flows over the body like an Italian linen. Other options include needlecord, a rugged handwoven tweed (above) and a lovely mid-weight navy flannel (I know Simon has written about the limitations of flannel tailored jackets, but I think an unstructured chore removes any stigma of excessive formality).
Of course, the RTW options online are just a jumping-off point with Anderson & Sheppard, given the range of MTO fabrics available.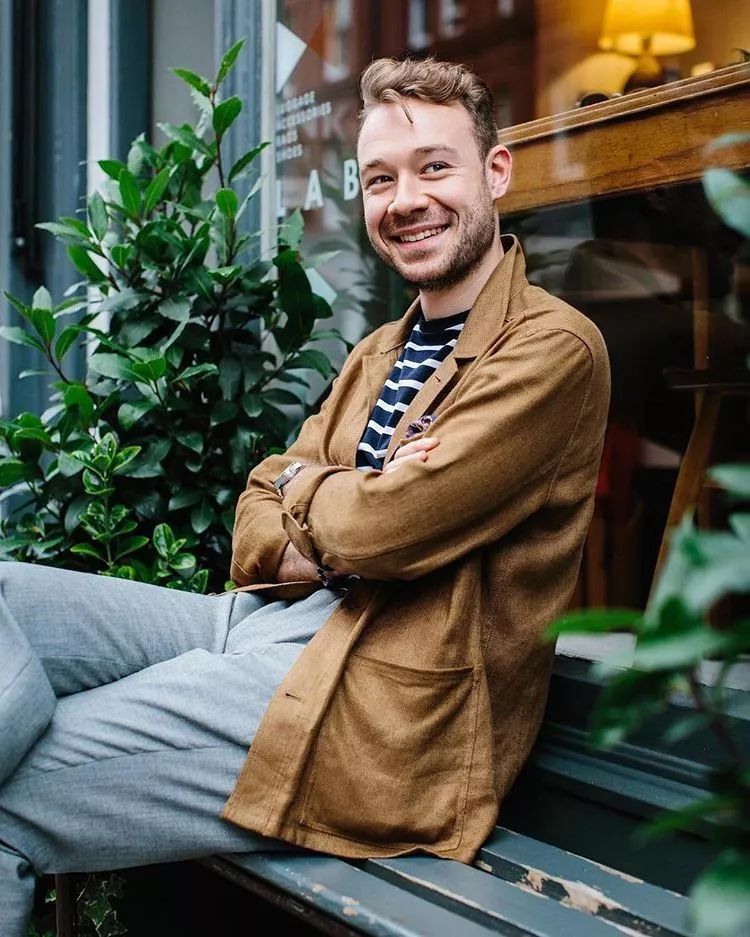 Like many of the coats in this guide, I find the No.2 a little long in the sleeve. And unlike them the No.2 has a barrel cuff, which makes any alterations a little more expensive. I've not found this to be an issue on the linen jacket, which gets styled a la dégagé – buttons open, sleeves rolled up to encourage breeze on the wrists – but might be something to consider on the winter cloths if you have shorter arms.
The last thing I'd like to give a shout out to is the pockets, three of which have closing devices – a button on the breast pocket and zips on the two internal pockets. As someone who is of the firm belief that passports, credit cards and mobile phones love nothing more than leaping out of open pockets, I can't overstate how much I appreciate the zip pockets (the only brand to have them in this guide).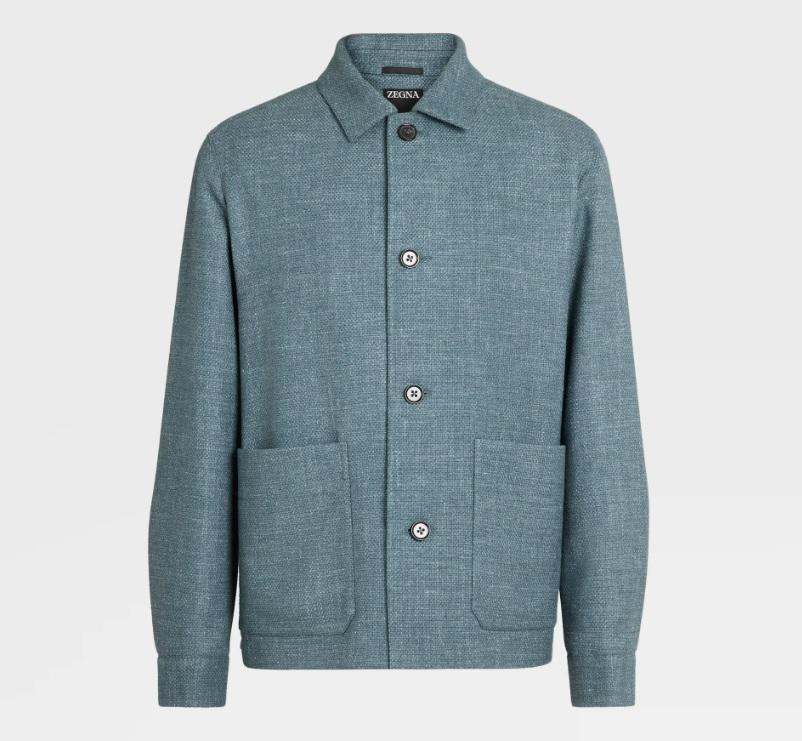 I agree, these are very expensive. However, I said at the outset we'd consider the most luxurious materials and that's what these undoubtedly are – a fantastic dry-handled and lightweight wool, silk, linen and cashmere in steely blue (above £1790), a thick (almost spongey) wool (55%)/cashmere (45%) blend (£1990 – in three colours) and a mottled grey pure cashmere (£2890).
The front of the jacket has been shorn of its breast pocket: a decision that I'm sure will be simultaneously welcomed by those that like to keep things clean and minimal and agonised over by those with spectacles to deposit. This act of confiscation does give the coat the air of a Donkey jacket, but with these materials perhaps it's fairer to refer to it's a Thoroughbred.
Upon opening the chore you'll find lining in the sleeves and across the shoulders. It's a minor detail but, in common with the SEH Kelly jacket, it really does help the coat to slip on and off and obviates the need to rearrange your under layers after.
The interior also comes equipped with two small patch pockets by the hip – one with a button (nice).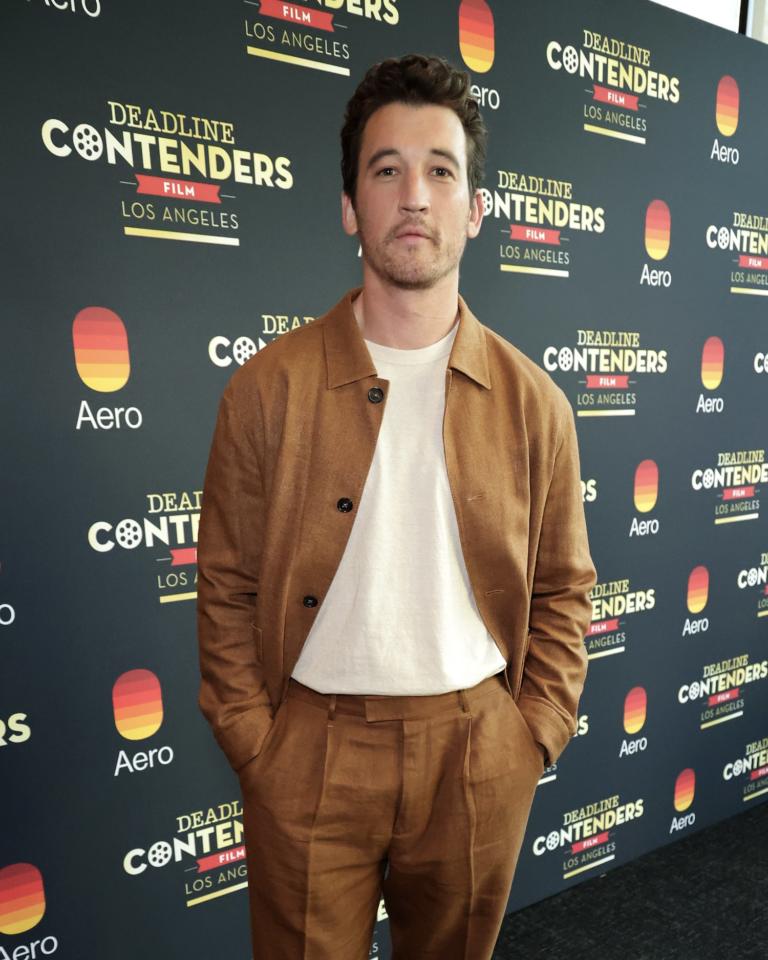 As usual, I requested to try a size 38 and 40 in-store but ultimately only bothered with the former as it fit very well – despite wearing my thickest roll neck jumper at the time. Uniquely in this guide the Zegna coat has two shallow vents in the back which may have improved comfort – but only fractionally would be my guess.
The only negative on the fit was that (once again) the sleeves were a little long. Zegna's coat has a button cuff at the end of the sleeve and so has the same attendant alteration issues as A&S. Mind you, if you're able to afford this coat then the cost of an alteration is unlikely to be a dealbreaker.
I have to say I was quite taken by the Zegna offering. There's no getting away from how expensive it is (even after allowing for the fact that Italian cashmere prices went up by over 40% between 2021 Q1 and 2022 Q1) but if you're looking for a deluxe casual jacket option I've no doubt there are places you could spend more and get less.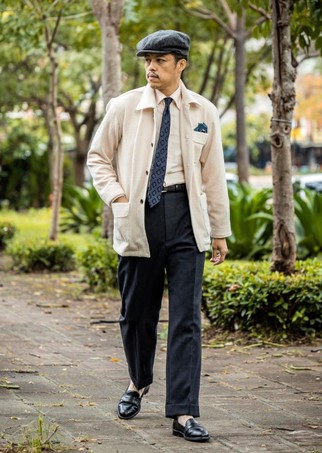 Other options
Prologue (from HK$3398) offer a MTO chore jacket with a shirred back – recent commissions have been made up of vintage raw silk, linen canvas, and a milky terry cloth (above).
De Bonne Facture (€395 to €780) carry several chore jacket variants – the work jacket, the traveller jacket, the painter's jacket, the architect jacket and an overshirt…with hip pockets. I wonder what happens if an architect gets on a train – should they change jackets? To be frank, the range is a bit confusing, and I'm not entirely convinced there's sufficient differences to justify five models. But De Bonne Facture do use lovely cloths in soft, neutral tones and here you can choose between corduroy, wool (either twill, flannel, crepe or brushed) and yak (which I've not seen anywhere else).
Coherence ($925) make an unusual double-breasted chore coat inspired by a coat worn by the Dutch-French painter Kees Van Dongen in the 1950s. Perhaps not the best option for your first chore but certainly worth looking if you want a more individual take.
Scott Fraser Collection (from £295) is one to consider if you liked the absence of a breast pocket on the Zegna model but were less fond of the price. Scott's two Partner jackets – the Corta (short) and Lunga (long) – incline towards a blouson and a safari jacket/robe respectively but retain the (mostly) straight hems and patch pockets of a chore coat.
No Man Walks Alone ($485 to $595) have designed a very light chore jacket in partnership with G. Inglese. The result looks more like a shirt jacket than a heavy-duty chore but, given how few brands offer chore jackets in patterned fabrics, I can forgive all for this delightful rusty brown gun club chore alone.
The Merchant Fox (£570 to £730) sell a classic French utility jacket (below) in a bulletproof coating cloth woven by Fox Brothers. Its material and cut make it less of a luxury piece, arguably, but we'll look at this along with other Merchant Fox jackets in an upcoming article.
Manish is @the_daily_mirror on Instagram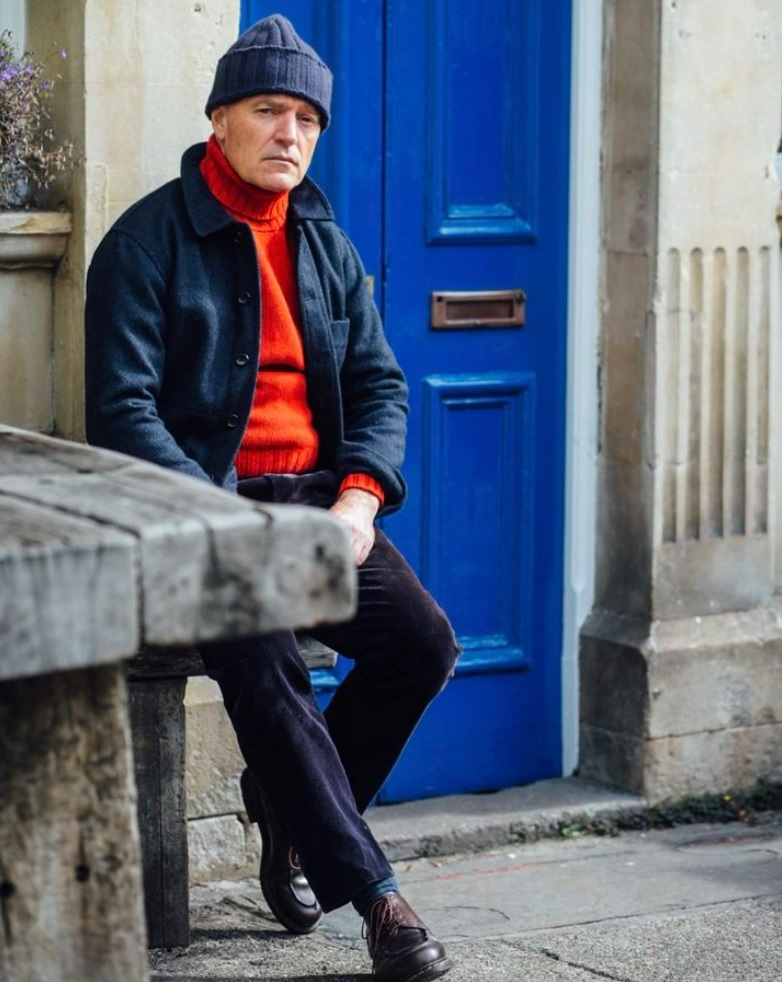 The Index
The index is designed to collect the key information of each of the chore coats models featured. To aid comparison we've shown the chest, back length and sleeve length for size UK40/IT50/M – measurements taken from the brands.
Prices are correct as of time of writing.
Brand
Model (Size)
Price
Pockets
Fabrics
Chest (cm)
Back Length (cm)
Sleeve (cm)
LEJ
Cat Posh Plage Coat (M)
£275 to £425
3 x front patch and 1 x internal patch
– Cotton

– Tweed

– Wool/cashmere

– Wool/cotton

116
74
59.5
SEH Kelly
Work Jacket (M)
£396 to £480
1 x front patch

2 x front bucket

1 x internal patch

1 x internal jetted

– Corduroy

– Cotton sail canvas

– Hopsack cotton/linen

– Stay-wax cotton (due January)

112
71
89 (from centre back)
The Anthology

 

Lazyman (IT50)
$525 to $850
3 x front patch and 1 x internal patch

– Cotton

– Lambswool

– Merino Wool

– Camelhair

– Seersucker

– Wool/Llama/ Cashmere/Polyamide

– Cashmere (MTO only)

118
72.2
63.6
Drake's
Five-pocket chore jacket (UK40)
£475 to £1295
4 x front patch and 1 x internal patch
– Suede

– Selvedge corduroy

– Denim

– Cotton

– Linen

115
72.3
65
Anderson & Sheppard
Jacket No. 2

(M)

£1095 to £1395
3 x front patch (one with button) and

2 x zipped internal

– Corduroy

– Flannel

– Linen

– Handwoven tweed

– Many MTO options

112
71
47
Zegna
Chore Jacket
£1790 to £2890
2 x front patch and 2 x internal patch (one with button)
– Cashmere

– Wool/Cashmere

– Wool/Silk/Linen/

Cashmere

TBC
TBC
TBC