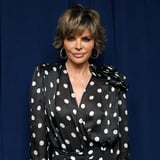 Image Source: Getty / Presley Ann
The 2022 People's Choice Awards on Dec. 6 brought some eye-catching beauty moments – from Olivia Wilde's "marinated" makeup and Shania Twain's pink hair to Lizzo's fauxhawk hairstyle – but it was Lisa Rinna who shocked us when she stepped onto the purple carpet with a new pixie haircut. The "Real Housewives of Beverly Hills" star's previous bob hairstyle underwent quite a transformation before the big event.
Rinna's hairstylist Scott King styled her hair into an edgy, super-short pixie with lots of volume at the roots. With blacked-out sunglasses hiding her eyes, she looked like a completely different person – even if it was just temporary. At first glance, it looked like Rinna opted to chop off the length of her hair, but it appears King actually expertly pinned most of it back because the next day, her signature spiky bob was back.
But clearly Rinna took to the temporary hairstyle, because just a week later, on Dec. 15, she paid a visit to celebrity hairstylist Sally Hershberger to get the real thing. "Chop Chop ✨" Rinna captioned an Instagram photo showing off her new spiked pixie. That same day, Hershberger reshared the image with a caption that read, in part, "'It's gotta be rock 'n' roll music if you wanna dance with me,'" quoting the Chuck Berry song "Rock and Roll Music."
Take a closer look at Rinna's pixie haircut – both from the PCAs and her recent trip to the hair salon – below.
Image Source: Getty / Axelle / Bauer-Griffin
Image Source: Getty / Amy Sussman