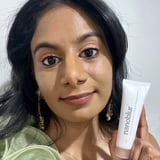 When it comes to complexion and base products, I want something that makes my skin look flawless. As someone who's acne-prone with visible pores, getting that picture-perfect base requires a good amount of layering and complexion products that end up making me look and feel cakey. The secret to a good makeup application is having the perfect base that will prep and prime your skin for your foundation, concealer, powders, and everything else. For me, the ideal primer should make my skin look evened out and give my makeup something to grip onto for long-lasting wear. I want something that will not only cut down on how many products I use but also the amount of each product. When I got introduced to the Indeed Labs Nanoblur Cream ($20), it was when I found out it's used on the set of "Euphoria." I had to try it out myself and see if it was worth the hype.
What to Know About the Indeed Labs Nanoblur Cream
It's supposed to soften the appearance of fine lines and wrinkles, diffuse the appearance of enlarged pores and shine, and give a smooth, mattified appearance to the skin.
The Indeed Labs Nanoblur Cream has a thick, creamy gel-like consistency.
It has a soft matte finish with a skin-blurring effect.
This primer has a Nano-Optic Prism Complex and uses light-diffusing, optical-blurring technology and a concentrated elastomer content to create a skin-blurring effect with a visibly matte and flawless finish.
It's formulated for all skin types.
It contains no phthalates, sulfates, parabens, drying alcohols, colorants, and mineral oil. It's vegan, cruelty-free, and fragrance-free.
What I Like About the Indeed Labs Nanoblur Cream:
The Indeed Labs Nanoblur Cream has a thick, creamy gel-like consistency that feels hydrating on the skin, even though it delivers a soft matte finish. It's one of the few mattifying products I've used that actually keeps my skin moisturized and flexible. The primer glides onto the skin like butter and feels velvety as it blends in. The product sinks into the skin and feels practically weightless. The best part? I've tried the Nanoblur Cream with plenty of products, and I've yet to see it pill.
I noticed the skin-blurring effect of this primer pretty much immediately. My pores looked more diffused, and the look of the texture of my skin was minimized, creating a base that looked smooth and silky. It's like I had the Paris filter from Instagram in real life! It truly delivered that skin-blurring effect. It masked the excessive shine on my forehead but still gave my skin and complexion a natural glow. This primer has the ability to balance out your skin, giving you the right amount of radiance for a second-skin-like appearance. With this primer, I didn't have to worry about using layers and layers of other products. In fact, I was able to use a lesser amount of foundation, concealer, and powder. Plus, my makeup pretty much stayed put all night long.
How to Use the Indeed Labs Nanoblur Cream
The brand recommends using the Indeed Labs Nanoblur Cream as a primer after moisturizer, on top of liquid foundation, or under pressed or loose powders for a skin-blurring, mattifying effect. I used a pea-size amount of the Nanoblur Cream dotted all over my face mainly as a primer after my moisturizer and sunscreen. I added a thin second layer of the primer in areas where I need extra blurring to reduce the look of enlarged pores, like my nose and cheeks. I found that most of the time, I didn't need to apply it over a liquid foundation or under powders. However, when I tested out this method, it mattified the area. I found it best to do this method after your foundation or powders have been set for a few minutes. Add a little bit of the product to the back of your hand, and use a sponge to gently dab the product into the skin without rubbing the complexion products off. I would consider doing it as a midday touch-up or if I had an oily or combination skin type.
What to Consider Before Trying the Indeed Labs Nanoblur Cream
This primer is ideal for those who like a mattified look rather than a dewy look. However, if you prefer a dewier look, you can still use this primer since it feels hydrating on the skin. All you have to do is either prep the skin with hydrating products and serums or mix this primer in with your favorite moisturizer. You can also set your complexion with a setting spray that has a dewy or glowy finish.
Where Is the Indeed Labs Nanoblur Cream Available?
The Indeed Labs Nanoblur Cream is available at Ulta and Target ($20).
Rating: