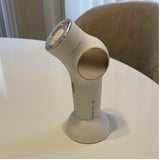 Therabody, the company behind Theragun devices, recently launched the TheraFace Pro.
The product offers multiple skin-care treatments including LED light and microcurrents.
One editor tested the product and is sharing her results.
I write about beauty regularly, which means I often find myself testing out the latest and greatest beauty devices. There are some amazing options on the market, and while I've come across a few that have helped me put my best face forward, sifting through all of the choices can be a little overwhelming. When I had the opportunity to test out the TheraFace Pro ($399), a 6-in-1 skin-care tool that promised to do it all, I jumped at the chance, and I'm so glad I did.
The device, which was created by Therabody (the brand that put massage devices on the map) got me through the worst breakup of my life by cutting down on acne breakouts and all but helped cure the soreness I typically experience from teeth grinding and clenching. Keep reading for my full review.
About the TheraFace Pro
The TheraFace Pro is a multitasking facial treatment device.
The tool includes six different facial treatment attachments: a microcurrent ring, an LED ring with three different settings, three percussive attachments, and a cleansing ring.
The tool also comes with conducive gel, a soft carrying bag, a stand, and a USB charging cable.
You can purchase hot and cold ring attachments separately.
How to Use the TheraFace Pro
This 6-in-1 tool (or 8-in-1, if you purchase the hot and cold attachments), has so many different features that the way I use it is endless. The brand recommends that each facial therapy only be used for a maximum of eight minutes (with the exception of percussive therapy), which means that the treatments are quick enough that I can fit at least one in every single day, and each different attachment easily snaps off and on magnetically.
How to use the TheraFace Pro microcurrent ring: Thanks to microcurrent technology, this attachment aims to help lift and tighten the skin, so I like to use it in the mornings before my skin-care routine. To start, I apply the included TheraOne conductive gel to my face as a lubricant. From there, I glide the device over my skin moving in an upward and outward motion.
How to Use the TheraFace Pro LED rings: The LED rings have three different settings: red light to improve texture and target fine lines, red light with infrared, which has an added warming feature to help reduce pain, and blue light, which helps to target bacterial acne. I find myself using the red light most often because wrinkles are a big concern of mine, but in the days before my period when I know I'm going to have at least a few breakouts I opt for the blue light setting.
How to Use the TheraFace Pro Percussive Attachments: As someone who grinds their teeth at night, the percussive attachments have easily become one of my most used. The tool comes with three different attachments: flat (for tension relief in the entire face), micropoint (for larger areas like the forehead), and cone (for targeted areas like around the eyes and pressure points). I like to combine LED therapy with a percussive treatment, and I typically do it at night to relax before bed, or in the morning if I find that my jaw is really tense from clenching and grinding the night before.
How to Use the TheraFace Pro Cleansing Ring: The cleansing ring is the attachment I use the least often because I don't like to over-exfoliate my face. However, it's great for using before I self-tan because it helps remove excess dirt and dead skin so my color applies evenly.
How to Use the TheraFace Pro Hot and Cold Heads: While I don't use the heating ring too often, the brand says it's great for encouraging collagen production. As for the cold ring, I wake up looking swollen more often than not, and the attachment is perfect for deducing inflammation and puffiness. Plus, I love that the cold ring doesn't require sitting in the freezer for hours at a time and I can just pop it on and use it whenever I need to.
What I Like About the TheraFace Pro
I take my skin care seriously, and before trying the TheraFace Pro I had different devices for everything: A microcurrent device, multiple different LED masks, ice rollers – you name it, I had it. This sleek tool essentially eliminated my need for various skin-care tools, which really helped declutter my beauty cabinet. It's also compact, easy to travel with, and it's very user-friendly. Although the large number of included attachments might make things sound complicated, I was able to get the hang of it immediately.
I've also seen actual results since using this device. I'm able to target specific acne trouble areas, which has reduced the number of flare-ups I have, and I've noticed that the pain I feel from grinding and clenching has greatly decreased since using the percussive attachments regularly.
Also, this isn't a huge thing, but I do love that the product is extremely easy to clean. I typically use a wet wipe or a damp cloth to wipe it down after each use before storing it in its case.
What to Consider Before Trying the TheraFace Pro
If you're someone who has been wanting to start taking their skin routine more seriously, this tool is the perfect way to start doing that. Because there are so many different attachments, you always have the option to start small and focus on a few minor things and then add in more treatments at a later date. It's truly a do-it-all-one-and-done product that will essentially start and finish your skin-care treatment collection.
Is the TheraFace Pro Worth the Splurge?
In my opinion, this tool is 100 percent with the splurge and the hype. It's essentially six beauty devices in one, which means you can spend the money once rather than spending it six different times on six other devices. When weighing out the cost for myself, I thought about the fact that a suitable microcurrent device would run me anywhere from $300 to $500, and an LED mask could cost anywhere from $150 to $200, which meant that it was worth it just for those two attachments alone.
Plus, I use my device at least once a day every single day, which means it's already paid for itself when considering cost per use.
Where Is the TheraFace PRO Available?
The TheraFace Pro is available directly on the Therabody website, Revolve, Nordstrom, and Bloomingdales.
Rating: