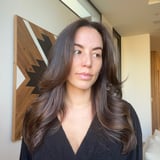 "Fluffy" hair is trending on TikTok.
Achieving the look at home is all about proper prep prior to drying and styling.
One editor is sharing how to achieve the perfect fluffy hair look.
I don't mean to complain, but having fine hair sucks. Over the years, mine has experienced more fall out and breakage than I'd like to admit (I curse the days before I knew how to properly use a round brush), which means I've always jealously admired girls with long, thick, luscious hair. I've also always thought attaining the look for myself was out of reach.
When I saw that "fluffy" hair was going viral on TikTok (the hashtag #fluffyhair has over 756 million views and counting), I didn't think it was a style I could achieve. However, luckily for me, the platform is a treasure trove of information on how to master the look at home, even if you have thin hair. Once I finally figured out how to make it work for me, the compliments started rolling in. Because I'm a nice person and believe everyone has the right to a good hair day, I'm sharing all of the secrets I've learned to achieve the popular bouncy style without ever needing to visit a salon.
Here's a step-by-step guide to creating the fluffy hair look from TikTok.
Step 1: Wash Your Hair, Strategically
After lots of trial and error, I've learned that achieving the fluffy look starts in the shower. I didn't want to risk weighing my hair down, so instead of doing my normal shampoo and condition routine, I reverse-hair washed, which I knew would eliminate any excess weight caused by too much product.
Step 2: Prep the Hair For Styling
When I got out, I put my hair up in a microfiber towel to soak up the water, and after 15 minutes, I took it down and started prepping. I started out by using the Unite 7 Seconds Leave-In Conditioner ($33) to comb through any tangles. Next, I took a dollop of the Authentic Beauty Concept Amplify Mousse ($25) and distributed it throughout using my fingers. I've found that adding mousse to my hair prior to blow drying helps add volume and set the style. Finally, to protect it from any hot tools, I spritzed on the Gisou Propolis Infused Heat Protecting Spray ($41) all over.
Step 3: Dry Hair With a Blow-Dryer Brush
Then it was time to start styling. I've been able to get the fluffy look with a blowdryer and a round brush and even just velcro rollers, but my favorite way is to use a blow dryer brush like the Dyson Airwrap ($600).
After rough drying my hair and clipping it off into two sections, I took the round brush attachment and began running it through my hair, rotating it at the end to curl it upward. I part my hair down the middle, so I flipped each side the opposite direction, running the blowdryer brush through my roots, to make sure I had lots of volume. I continued doing this until my hair was about 90 percent dry, focusing on the ends and making sure they were flipped outward. To finish everything off, I separated my curtain bangs from the rest of my hair and blow-dried them while continuing to rotate the dryer brush upward. Then, I brushed everything back using a large paddle brush.
Fluffy Hair Results
The end result was bouncy, springy hair that looked soft to the touch.
I learned a few quick tips along the way that are worth noting. First, I've found that my hair looks fluffiest when I have lots of layers cut into my hair, but I've been able to make this style work for me even when my layers have grown out. If I don't have the patience to blow-dry my hair and flip the ends out continuously, I've found that putting my hair in velcro rollers with the ends flipped outward works just as well.
Either way, wearing my hair in a fluffy style always garners me lots of compliments, which is why it's become one of my signature looks. If you've been seeing fluffy hair all over TikTok and you've been curious about how to achieve it for yourself, test out this tutorial – it's sure to make all of your wildest hair dreams come true.