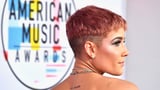 An undercut hairstyle is typically shaven on the sides, with longer hair on top.
Like a disconnected haircut, the two layers are separate lengths.
Keep reading for everything you need to know about styling an undercut.
There's nothing like the feeling of getting a new and exciting runway-worthy haircut at the start of a new season. If you want to go shorter, there are plenty of trends to consider: the midlength bob haircut, an edgy tapered fade, or even the latest (yet nostalgic) look, the undercut.
Although the style is getting a lot of attention for being a "new" trend, with stars like JoJo Siwa trying the cut, the style dates back as early as the 1920s. Resurfacing in the '80s and having been predominantly worn by men, undercuts then made another grand revival in the early 2010s, when women and gender-nonconforming people could also be seen wearing the look.
To learn more about the old-made-new-again trend, we spoke with a few pro hairstylists for everything you need to know about trying, styling, and maintaining the undercut. Keep reading to find out more and see photos to inspire your next chop.
What Is an Undercut?
"Simply put, an undercut is hair that's cut short and disconnected from the hair that lays on top of it," Renée Gadar, a master hairstylist and educator in New York City, tells POPSUGAR. The back and/or sides of your head are shaved very low underneath, and the longer hair on top remains as such, she says. It's a subtle way to add more flare to your look, because if you have longer hair it can be as hidden or exposed as you choose by simply tying it up in a ponytail.
When I opted for an undercut myself in my 20s, my hair was in a neck-length bob – think Rihanna's "Good Girl Gone Bad" album cover. I was working at a high-end spa in Santa Monica at the time and needed to exercise a bit of modesty while working there. It was quite literally good girl on top and gone bad on the bottom, which I loved because I could hide or expose it at will.
How to Grow Hair For an Undercut
In my experience, hair doesn't have to be extremely long to obtain an undercut. I had a neck-length bob, but even folks with short pixie styles can get an undercut. "Pixies can have parts of the haircut undercut to assist in debulking, slimming, and flattening the overall shape," Gadar says. Atlanta-based hairstylist and educator Patricia Flournoy agrees, adding: "Your hair doesn't have to be extremely long to obtain an undercut. If you want the option to hide or expose at will, ensuring your hair is at least below the earlobe will give you the flexibility to do so."
People of color have been showcasing an undercut via protective styles for decades, so it's safe to say the length of your hair isn't a grand feat when it comes to achieving this versatile style.
Undercuts For Curly or Textured Hair
"Anyone can get an undercut no matter the texture of your hair. The only thing to consider is how you approach it," Flournoy says. Because textured hair coils and curls most times grow outward, in these cases undercuts should be shorter and tighter.
For example? "If you're going for the traditional disconnected undercut on long, textured hair, cutting hair with shears first as low as possible will minimize risk of holes," Flournoy says. "Then follow with one-inch guard and finally zero guard to ensure it's short, tight, and even." Gadar adds that if you're going for a sharp bob, "the undercut being shorter and as close to the nape as possible will give a sharper line, debulk, and will help with longevity of style, reducing the maintenance of at-home styling."
How to Maintain an Undercut Hairstyle at Home
First and foremost: this is not a haircut you should DIY at home. "Although undercuts are generally disconnected, they are meant to assist in the look of an overall shape, so it's best to see a professional to set the guide," Gadar says. Also, always bring in a photo of the exact cut you want to show the stylist – this helps tremendously. Book a bang trim, neck trim, or beard trim with your stylist every three weeks or so to upkeep style. If your hair is textured and you can't make it into the salon, use a pomade, brush, and wrap your undercut with a silk and/or satin scarf to ensure it lies down and stays tight until your next appointment.
If you can't find physical photos to bring with you into the salon, archive the photos ahead for inspo.
Types of Undercuts