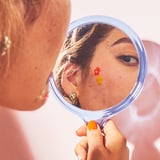 If even looking at a new skin-care product makes your face itch in fear, you probably have sensitive skin. This particular skin type can be described in the same way as every needy partner in all the worst rom-coms: it's easily irritable, hyper-reactive, and needs constant attention, coddling, and TLC. It tends to flare up when the natural skin barrier has been compromised, exacerbating symptoms like redness, itchiness, and flaking. This skin type can also be combined with other types – for example, you can have sensitive acne-prone skin or sensitive dry skin.
The tricky part in building the best skin-care routine for sensitive skin is that introducing new products can be grade-A Risky Business, especially when even the most simple of changes causes an adverse reaction. That's why you'll want to stick to gentle, no-frills formulas that keep the skin moisturized with minimal irritation.
How to Tell If You Have Sensitive Skin
First, be sure to distinguish your sensitive disposition from the common reaction you might experience from, say, a cold windy night or sweaty day in August. "Brush your fingers across the side of your face with light to medium pressure – if the skin turns red, it's sensitive," celebrity facialist Joanna Vargas said.
Or, if you have a deeper skin tone that doesn't show redness so easily, dermatologist Elizabeth Tanzi, MD has an equally easy tip: "You know you have sensitive skin if the majority of the products you place on your skin cause stinging or redness."
Ingredients to Avoid If You Have Sensitive Skin
"If you have sensitive skin, it is always a good idea to check the ingredients of the products you are using and avoid skin irritants," said dermatologist Elizabeth Mullans, MD, of Uptown Dermatology in Houston. "A few of the common irritants to look out for in products are fragrances, dyes, and preservatives [that] can be hidden in beauty products, moisturizers, or washes."
Stick to gentle formulas that doesn't have any scent, soaps, astringents, alcohol, or exfoliants, and instead look for words like "calming" or "soothing" (if you look for anything other than the ingredients list at all). This will ensure you'll never have to deal with that raw, tight feeling again. Because that's the thing: your skin care should never hurt. So before you start "you had me at hello"-ing every buzzy product you see on TikTok, be sure you take into account these tips for creating the best 4-step skin-care routine for sensitive skin.
Best Skin-Care Routine For Sensitive Skin
Step 1: Cleanse
This first step is paramount in any skin-care routine, but if you have sensitive skin, you've probably experienced redness or a little flushing after washing your face. This could be because the temperature of the water you're using is too hot (stick to lukewarm temps to avoid stripping skin of its natural oils) but most likely it's because you didn't check the back of your bottle of face wash for potentially irritating ingredients before adding to cart.
A few of our favorites: the Cerave Hydrating Cleanser ($13), Neutrogena Hydro Boost Hydrating Gel Cleanser ($10), and Aveeno Ultra-Calming Foaming Cleanser For Sensitive Skin ($7).
Step 2: Treat
The same rules apply when it comes to choosing a face serum or treatment: look for the good stuff that's proven to be effective – think hydrating ingredients like peptides, hyaluronic acid, niacinamide, ceramides – and skip everything else. If you want to use a toner post-cleanser, make sure to opt for alcohol- and fragrance-free formulas.
A few of our favorites: the Biossance Squalane + BHA Pore-Minimizing Toner ($28) and the [ comfort zone ] Remedy Toner ($35).
With more targeted treatments, check with your dermatologist – especially before introducing more potent ingredients like retinol, exfoliants like AHAs or BHAs, or OTC acne treatments into your skin-care routine, as they can cause potential flare-ups depending on your level of sensitivity. To see how your skin reacts to a product before committing it into your regimen, most docs recommend doing a "patch test" on a small area of your neck or jawbone 24 hours before slathering it all over.
Step 3: Hydrate
The thing about sensitive skin is that it's usually exacerbated when your skin barrier has been compromised, which means the key to getting it back to square one is pumping it with hydration. That said, your ideal face moisturizer should be soothing and simple, sans the shmancy bells and whistles. Opt for those ingredients proven to hydrate (hyaluronic acid, ceramides, niacinamide) and skip formulas that include fragrances or dyes.
A few of our favorites: the Curél Intensive Moisture Facial Cream ($30), as well as the La Roche-Posay Toleriane Double Repair Face Moisturizer ($20), which is noncomedogenic, oil-free, and loaded with ceramides and niacinamide.
Step 4: Protect
As with any skin type, you always want to protect your skin from harmful UV rays with a solid sunscreen. They key is to find an SPF that's easily tolerated by sensitive skin, and won't clog pores or cause irritation. The safest bet is to look for physical or mineral sunscreens with ingredients like zinc oxide or titanium dioxide to safely shield yourself from the sun. (Although not always, chemical sunscreens with ingredients like avobenzone can sometimes be harsh and cause stinging or redness when applied to the skin, says celebrity aesthetician Renee Rouleau.)
A few of our favorites: For the best tinted version, our editors swear by the EltaMD UV Physical Tinted Mineral Sunscreen ($34). For a physical formula that leaves behind zero white cast, we love the Cool Whipped texture of the Olay Regenerist Mineral Sunscreen SPF 30 ($39).
As you continue to carve out the best skin-care regimen for you, Dr. Mullans says it best: "Caring for sensitive skin is a learning process, but can be alleviated by implementing simple, manageable changes to your daily routine. Educate yourself on what works for your skin, and don't overthink it."