Drake's corduroy Mk.I Games Blazer: Review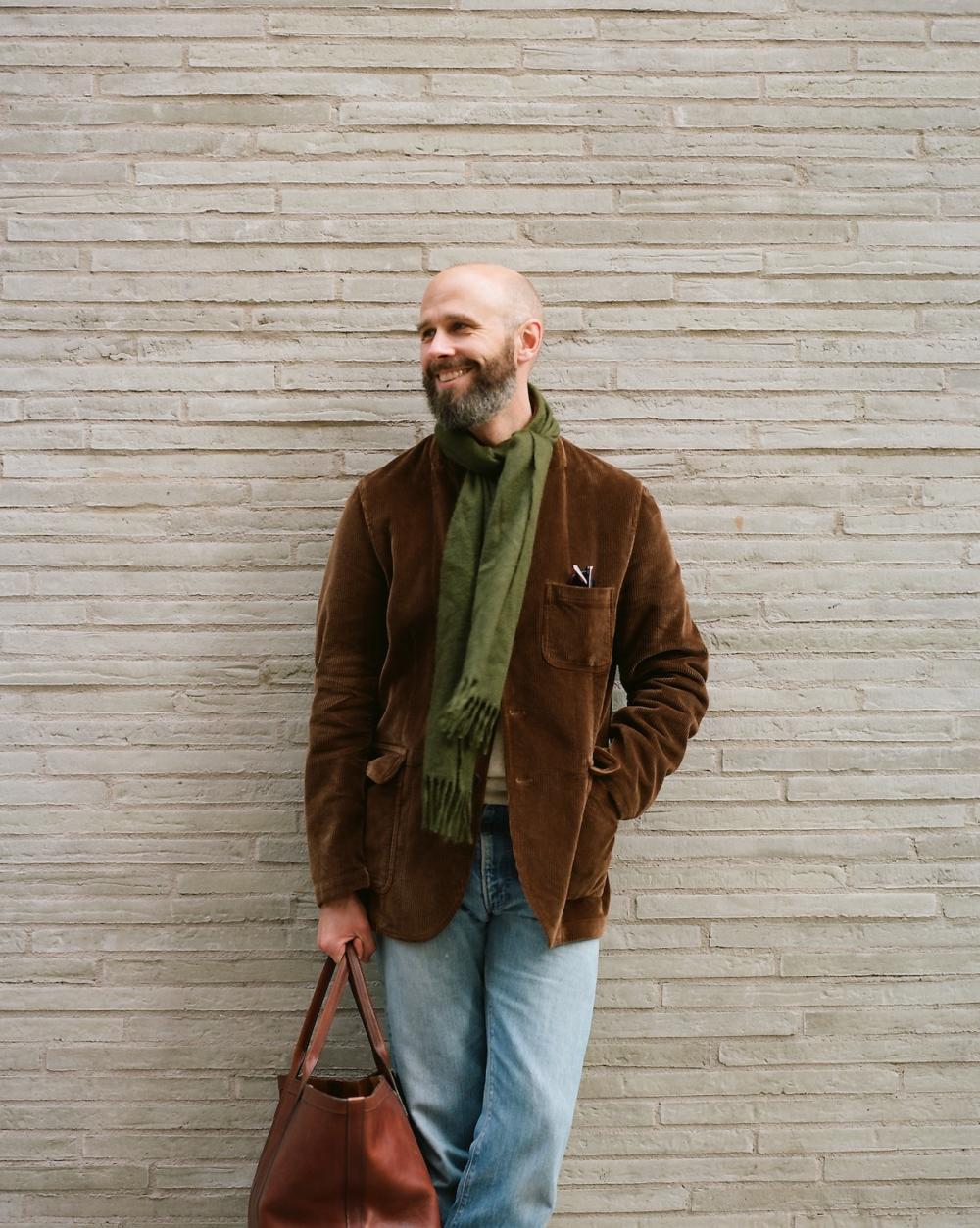 This is the Mk.1 Games Blazer from Drake's in russet corduroy.
To be honest, I've lost track of the numbers and which style each is, but the important thing is that this one's a fairly regular jacket with notched lapels – not the version I'd known best previously, with peak. 
All the other details are really just details – patch pockets, flaps, lack of lining. Particularly as that choice is often driven by the material itself – with this corduroy there is no need for any lining, as the reverse is so smooth; a hairy tweed is rather different. 
I also think it's best to think of this style as lying somewhere between a jacket and a chore coat on our recent list of tailoring alternatives. 
While it has regular lapels and rounded fronts (two of the usual properties of a jacket) it also has no vents, no buttons on the sleeve and twin-needle seams (all more common on a chore). 
It's also cut a little short and square and, more subtly, has no internal structure – nothing in the collar, lapels or chest – and therefore no real shaping.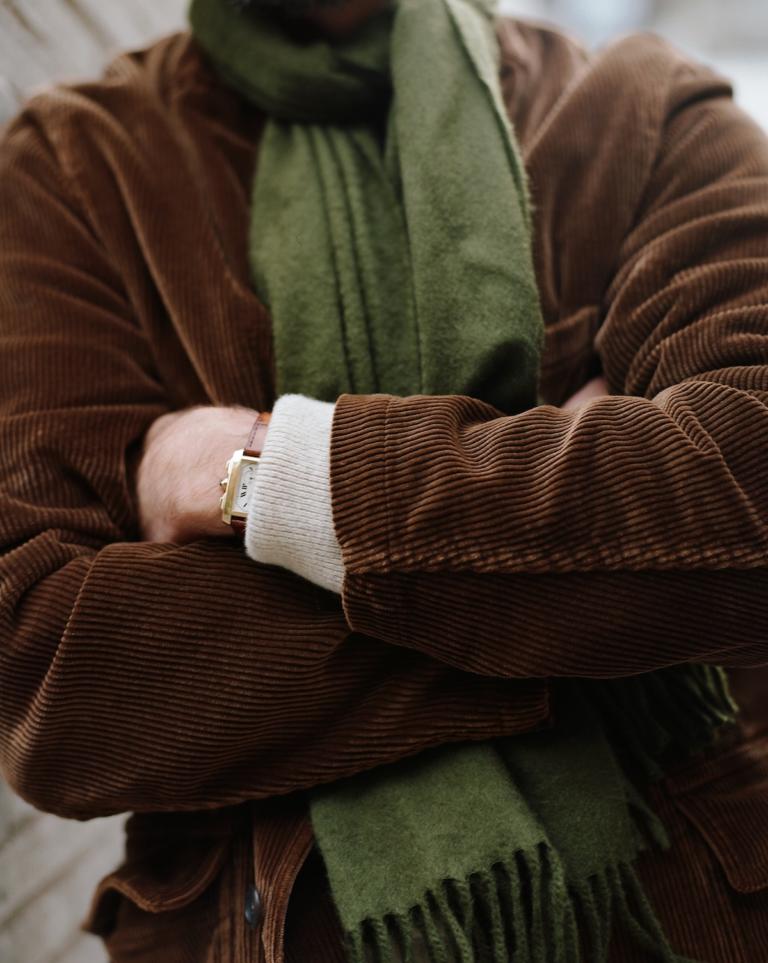 As with a chore, this throws all the emphasis on the material, and this heavy cord is really nice. An English eight-wale, it's strong but not stiff, and I've already seen mine soften over the first dozen wears.
In fact cloth choice might be the biggest strength of the whole Games range. This mid-brown colour is the perfect shade, as are the dark brown and the olive. I'm even tempted by the corn colour, which is striking but not too saturated. 
The navy tweed they've just brought out in the Mk.VII (single breasted, lined sleeves) is exactly what I would have chosen, as is the melton in the double-breasted Mk.III. There's even the mid-grey herringbone I'm always banging on about as the most versatile jacket. 
They're heavy – the tweed is a 14oz Harris – but that suits the style. They're not a jacket replacement in the sense of something to wear around the office, as a modern replacement for a suit. 
Rather they're closer to outerwear, which is how most men who don't normally wear tailoring would probably wear tailoring – not layered underneath an overcoat, but layered on top of a shetland or a sweatshirt.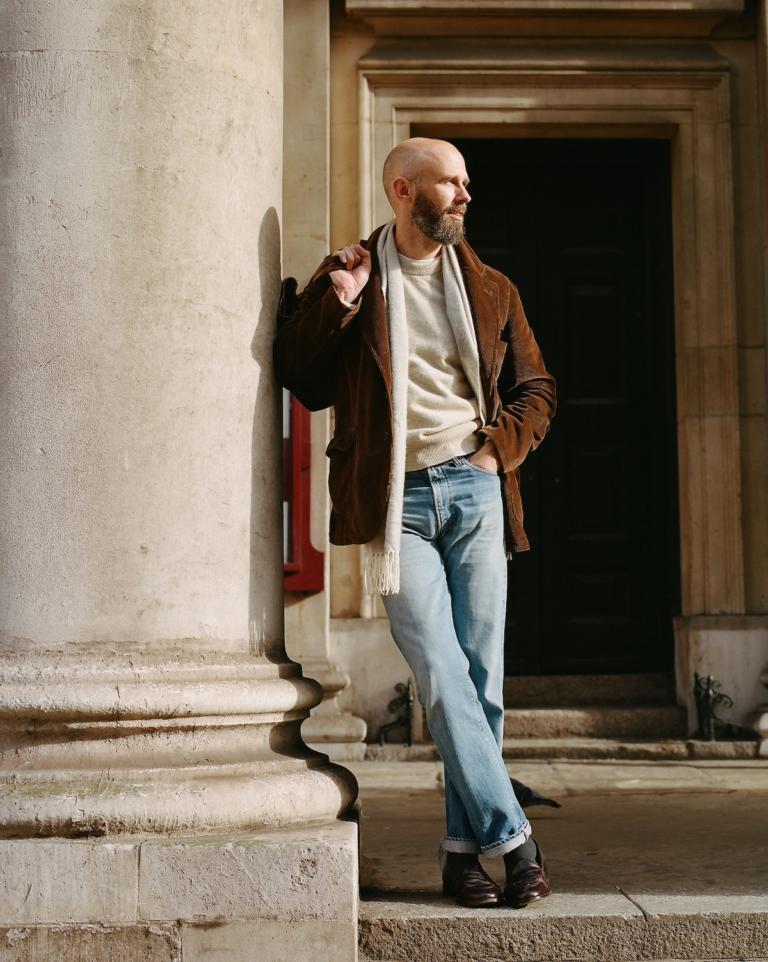 Instinctively, this role for the jacket is also reflected in how I've found I wear it. 
Over knitwear, yes, as with the Rubato lambswool crewneck pictured. With a warmer shirt, a hat and a scarf to make it more winter-friendly, rather than a coat. And while the down-gilet-over-the-top look is too much for me, I understand the motivation – it makes sense over this kind of chunky material.
I always wear the collar up – it's what I'd usually do with a chore, and the lack of internal structure plus the thick material makes it feel natural. 
I wear it undone most of the time. Given the lack of shape and structure, there isn't that much to be gained by buttoning that waist button. 
When I do button the jacket it's against the cold, and while I'm likely to use the waist button, it looks just as good with the top button instead – plus the functional button under the chin perhaps.
Finally, I use the hip pockets a lot. The material can clearly take it, and the cord also makes it a little awkward to use trouser pockets if the jacket is buttoned.
These are all things I would naturally do with a chore.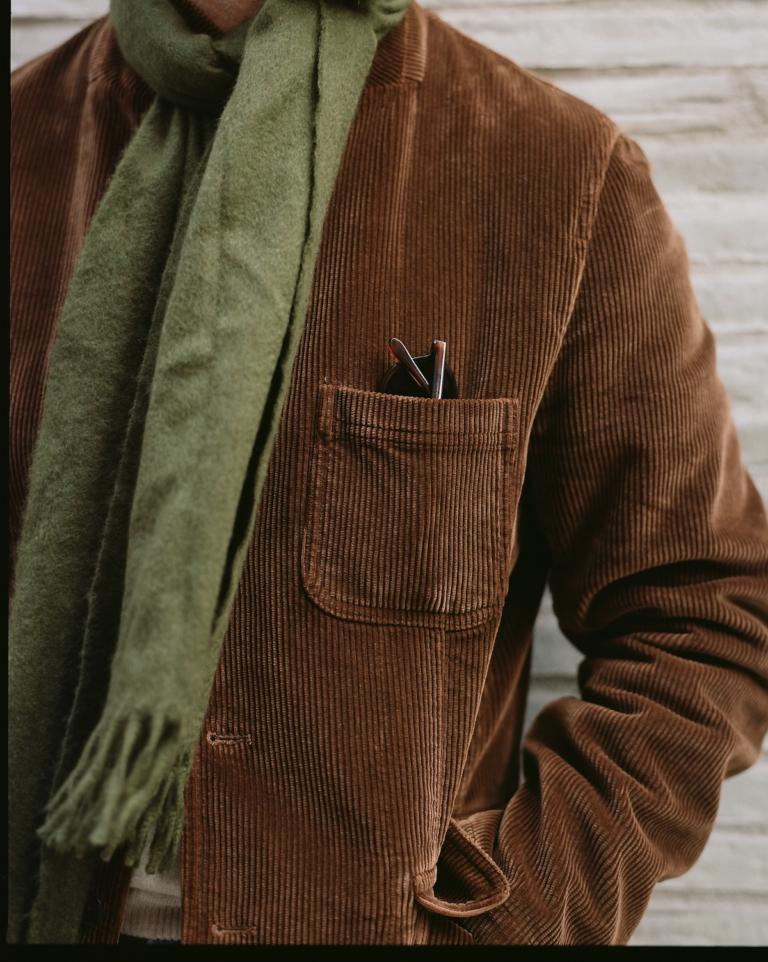 So where does this type of jacket fit into a wardrobe? 
I think it's for the guy who wants a piece of outerwear that is casual but can be worn with flannels and jeans. Perhaps he's tried chore jackets but found them too simple, square or straightforward. 
Not for the kind of guy who works in an office, in tailored trousers and smart shoes, and wants a jacket to go with them. He should try the pieces labelled 'tailored jacket' at Drake's. Not necessarily to buy that one (I'd nudge him towards made to measure in any case), but to notice the difference in style, cut, structure and resulting smartness. 
As a reader pointed out recently, it is definitely easier to wear a tailored jacket with jeans and casual trousers than most people think. I want to help with that and never lose that. But I also know there will be many men who want a jacket that is precisely this casual.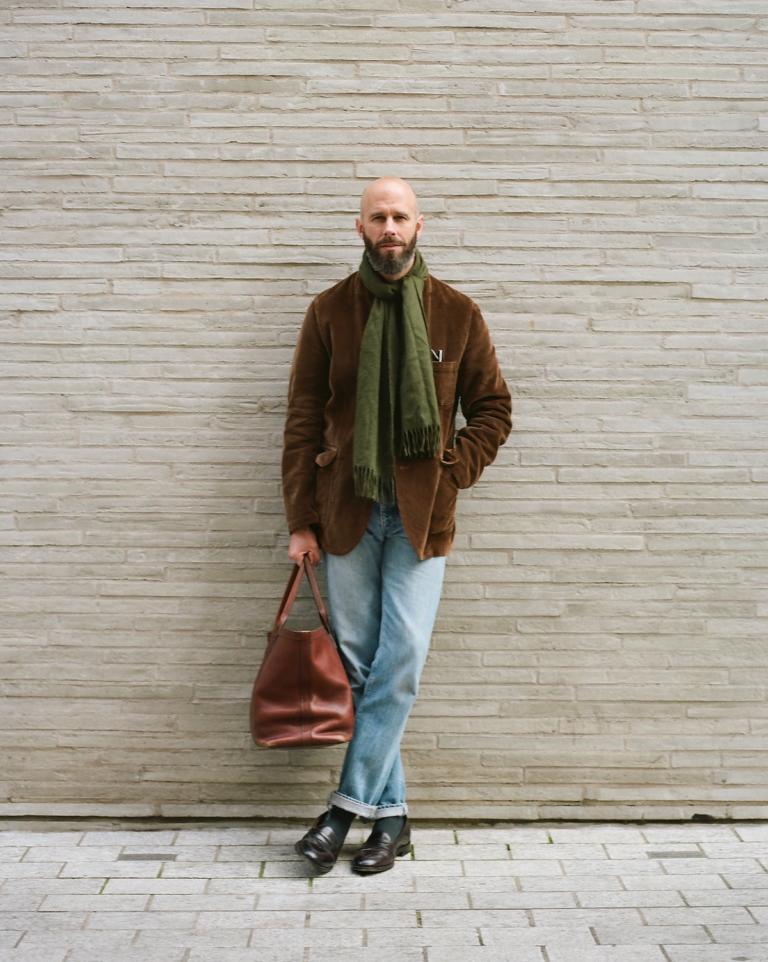 Drake's is expensive these days. This jacket is £795 and that's a lot for a cord jacket, even with the store, service and styling that I'm very happy to pay for. 
This puts me off some of the tailoring, but I'm more willing to pay for clothes that feel unique – where I can't get the same thing anywhere else and can 'feel' more of the design. I think the Games blazers fall into that category, as do the Drake's suede chore jackets.
I did try the Games trousers that match this jacket by the way, but didn't take to them. 
I think it's great that Drake's break them up with this way, and you can buy both, one or the other. They do them in materials – linen, cord, canvas – that I've always recommended as best for a 'three-way suit'.
But the trousers felt a little lower in the rise than with previous iterations, and I didn't like the single pleat. That thick cord is also an easier sell in an outerwear jacket, but a little more specific in a trouser.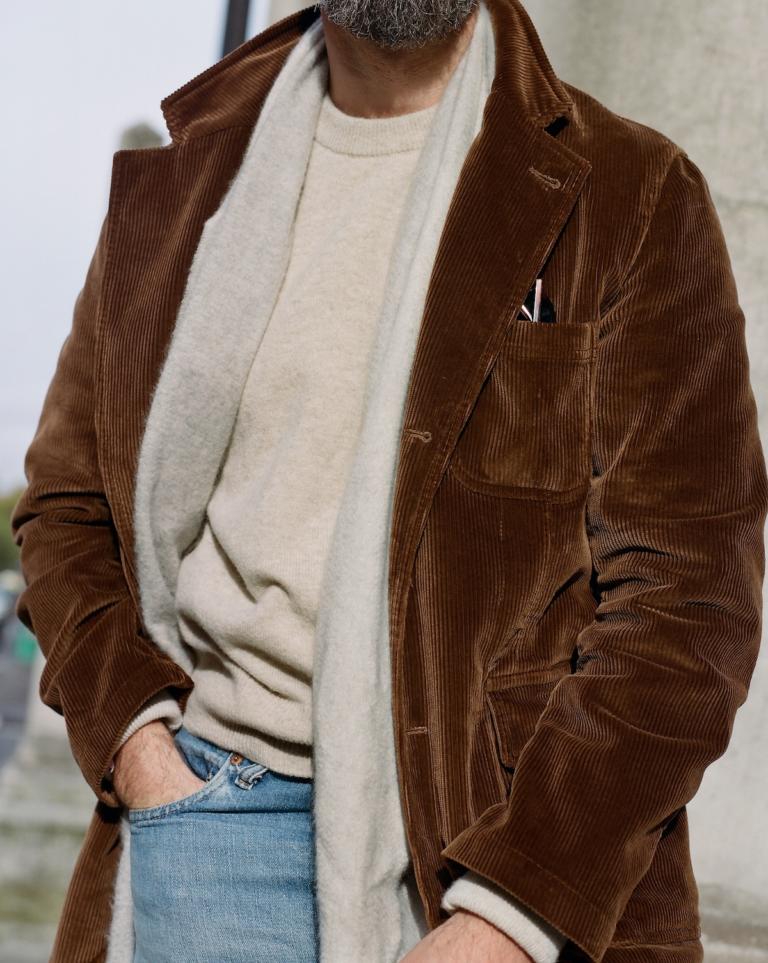 Other clothes pictured:
Rubato lambswool crewneck in fawn, size medium

Begg Arran scarf in silver

Seventies Levi's 501s, Le Vif

Alden full-strap Color 8 cordovan loafers, Aberdeen last

Frank Clegg large working tote, chestnut

Cartier Tank Chronoflex, yellow gold