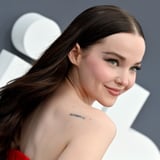 Dove Cameron is a beauty chameleon, and her latest hair transformation left her looking unrecognizable. In photos posted to her Instagram account on Monday, the "Boyfriend" singer ditched her long, dark hair for a cropped blond bob with blunt bangs. The tips of the wig, including the bangs, were dip-dyed in an electric-yellow shade that gave Cameron's new look a futuristic twist and left us doing a double take.
The photos, taken behind the scenes during a shoot with fashion photographer Elizaveta Porodina, feature Cameron posing in front of the mirror in a strapless bodysuit by Caroline Herrera that beautifully offsets the vibrant colors of her new hair. In the third slide, Cameron even does a hair swish to show the new look in motion. To complement the look, Cameron's makeup artist erased her eyebrows and brushed her face with shimmering white eyeshadow that added an edgy touch to her ombré gray lips. She completed the look with a milky-white manicure.
At first glance, her new hair makes her unrecognizable, but a second glimpse has us ready to follow in her footsteps – for Halloween and beyond.
Cameron isn't afraid to push the boundaries of conventional beauty, and her most recent makeup looks are examples of her unique flare for wearable art. In photos of the star at the Valentino womenswear spring/summer 2023 show at Paris Fashion Week, Cameron rocks an avant-garde winged-eyeshadow look embellished with tiny crystals that line her cheekbones. A month earlier, Cameron tried out a blunt pair of microbangs inspired by the classic pinup girls of the 1940s.
Take a closer look at Cameron's sleek blond bob here.