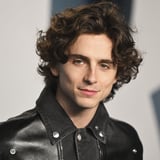 Image Source: Getty / Karwai Tang
Timothée Chalamet may not be new to the acting scene, but his upcoming film, "Bones and All," hitting the big screen in November has people wondering everything about him – including whether or not he has tattoos.
While we've seen Chalamet revealed parts of his body for movies, not much is known about whether or not he actually has any permanent ink. After appearing in an SNL skit back in 2021 with famously tattooed comedian Pete Davidson, questions began to arise on whether Chalamet had any tattoos himself. In the skit, Chalamet and Davidson are acting as SoundCloud rappers who have the reputation of being covered in tattoos and dyeing their hair vibrant colors. Though most of Davidson's tattoos in the bit are actually his own, Chalamet's skin was littered with fake tattoos up and down his arms and even one on his face. None, however, seemed to be real.
Despite this fact, it seems that Chalamet is deeply appreciative of the artwork permanently embedded into other people's skin. A few months ago, the actor posted a fan's tattoo on his own Instagram Story. The tattoo symbolizes a forest spirit from the movie "Princess Mononoke," which is a Studio Ghibli film.
Some fans have even gotten his face tattooed on them. At the premiere of "The King" back in 2019, a fan stopped Chalamet to show him her tattoo from his role in "Call Me by Your Name." Upon seeing it, Chalamet looked at her breathlessly and then did what no one thought he would do: he took the fan's arm into his hands and kissed the design. In an interview with i-D, she said, "It was completely unexpected! As soon as I saw him reach for my arm and kiss it, my first reaction was to caress his head. His was such a spontaneous, sweet and loving action that it made my heart melt! I still can't believe it."
Timothée kissed a fan's tattoo tonight in Venice! (via giorgiaamoro) pic.twitter.com/2x9MDVjYja

– Timothée Chalamet Updates (@tchalametupdate) September 2, 2019
Chalamet clearly appreciates beauty as a form of expression – he's been spotted with cool ear piercings, bright nail polish, and perfectly tousled hair – so who's to say if getting a tattoo is off the table. For now, though, it seems he's living ink free.