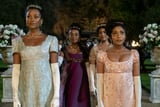 Image Source: Liam Daniel/Netflix

Beekman 1802 is collaborating with Netflix's "Bridgerton" for a skin-care collection.
The collection, featuring body-care products as well as a candle, pays homage to special moments in the show.
The collaboration comes ahead of the show's anticipated return in 2023.
We're one step closer to becoming a member of the Bridgerton family, or at least looking like one. Season two of Shonda Rhimes's acclaimed period drama debuted in March, but that hasn't stopped fans from clamoring for their "Bridgerton" season three fix early. While there's still some time to go before the next season of the series is available to watch, thankfully, we're one step closer to having skin like Daphne Bridgerton's with the upcoming "Bridgerton" x Beekman 1802 holiday collection – and we have all the details on what to expect.
Get your hands on limited-edition pieces that will have you slipping into character with ease, as the collaboration features gift sets that will be available exclusively on QVC, as well as some tried-and-true favorites you'll be able to find on Beekman1802.com.
Some of the exclusive QVC products will include the For All of You Whipped Body Cream Duo With Spoons ($45), the Spoon Me Gooseberry Lip Mask Duo ($46), the Flawless Featherweight Body Oil Duo ($48), and the Lady Whistledown 9oz Bar Soap Trio ($33). You won't be able to get these products anywhere else, so be sure to keep a keen eye on your local QVC listings.
The rest of the products will be available both on QVC and Beekman1802.com with the exception of the official "Bridgerton" Keepsake Advent Calendar ($165), the "Bridgerton" Luxury Spa Gift Set ($39), and the "I Burn For You" Votive Candle ($11), which will be exclusively available on Beekman1802.com.
As you're shopping, be sure to keep an eye out for subtle details, like the High Society Soap Collection being wrapped in a well-known set of papers – as well as a spoon that may bring back certain memories of Simon from season one. Though the holidays are still a few weeks away, it never hurts to get a head start on shopping for the "Bridgerton" superfan in your life (or yourself). Take a look at the products available in the collection ahead.