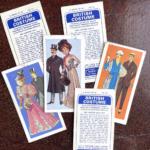 Collectable cards show the ages of British Costume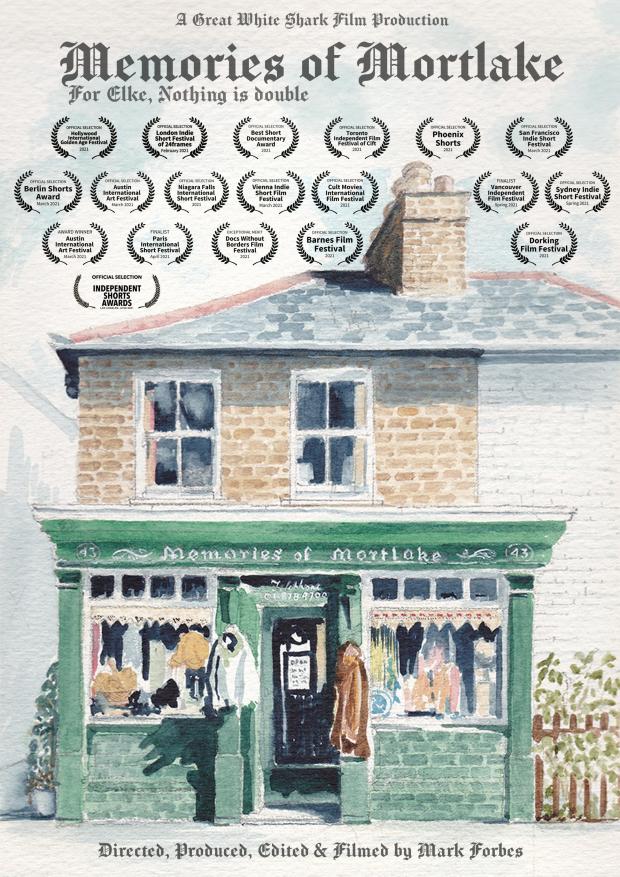 Near where I grew up in Mortlake, south-west London, there is an incredible antiques shop. 
'Memories of Mortlake' is the life's work of collector Elke Crowther, who sadly passed away last year, after decades of selling anything and everything in her house-cum-shop. 
There are antique plates stacked up, in the old-fashioned sink. An enormous oil painting of Kaiser Wilhelm lies sideways along the top of a wardrobe. The shop window is piled with examples of 40s and 50s design: postcards, cigarette packs, biscuit tins. 
I mention all this by way of context, as this post is about a little discovery I made at the back of one shelf: a perfectly preserved set of cards illustrating British fashions through the ages. 
Dating from the late 1950s, these were given away with tins of Brooke Bond Tea: you bought a tin, you got a card, you endeavoured to collect the set. 
Elke did a pretty good job, and although most relate to womenswear (it has changed much more, after all), there are enough including menswear to make them interesting. 
Here are the meticulous little images, in reverse chronological order, with the text on the back supplied by fashion historian Madeleine Ginsburg of the Victoria & Albert Museum. The illustrations are by Michael Youens. 
I've added my commentary in italics, but I'm sure you'll have your own thoughts as well. 
Day Clothes about 1927
With just this first example, I've included the text on the woman's costume as well, to give a sense of what usually runs before the men's.
"This lady, from a fashion plate of 1927, shows how plain, straight, loosely-fitting and low-waisted dresses had become. They became shorter from 1920, and by 1925 legs clad in beige flesh-coloured stockings were visible to the knee. 
Women looked as free and easy as boys with their flat figures and new short 'bobbed' hairstyles, covered in tight cloche hats.
The man's suit is still high-waisted with a rounded jacket. Men's trousers were full, sometimes widening at the turn-up to form 'Oxford bags'. Contrasting sports jackets were starting to be worn for leisure."
Historically, I find the more extreme fashions within menswear get recorded and discussed – such as the oxford bags mentioned here. But these were often fairly short-lived.
More interesting is how the cut of suits varied each decade or so – here, there is the 'rounded' jacket, which refers to the cutaway of the fronts, and the high buttoning point (the waist). 
Day Clothes 1920
"The man's lounge suit fits tightly and still retains its long jacket. The trousers are straight but shorter, generally with the turn-up, introduced about 1904. He wears the new, soft, felt hat and spats protecting his shoe, introduced in the middle of the 19th century."
This cut, you feel, would be at home at Liverano or the Anthology, with the exception of the length of the jacket. It's interesting how close fitting the jacket is, and how much slimmer the trouser, compared to only a few years later. 
Also noteworthy is how, over time, old-fashioned elements are gradually dispensed with. For example note how this gentleman has a contrast collar, probably detachable, whereas by 1927 he does not. Yet the spats live on a while longer.
Day Clothes 1916
"The gentleman wears a 'lounge suit' with a long, loose-flaring jacket and high-button lapels. His trousers taper slightly. Bowler hats were very common and for evening he could wear either the less formal, more comfortable dinner jacket, introduced in the 1890's, or the more formal cut-away 'tails'."
All of a sudden, the suit is barely recognisable. So long, and buttoned so high, that it looks nothing like a jacket today. Although the inverted commas around 'lounge suit' are intended to reflect the newness of the term, it also makes us reflect on how dissimilar it is from a modern suit. 
Day Clothes 1901
"Her companion wears a high, curved top hat with a double-breasted 'frock overcoat' on top of his formal jacket and striped trousers."
A shorter entry here, unfortunately, with most of the text discussing the woman's clothing. But the image and short text says it all – we are before the lounge suit gained popularity, and everything is about long, high-buttoning frock coats with contrasting trousers. 
Day Clothes 1896
"The gentleman wears the top hat and frock coat that have become established formal dress for over forty years. Black is established as the standard colour for formal dress, and little else has changed except details like the length of the lapel and the curve of the tails. He wears a high starched collar."
The Victorian period witnessed relative stability of dress, as reflected in this commentary, with the frock coat and trousers dominating smart daytime attire. Although it's interesting that 40 years is considered a long period, yet the suit today has barely changed except in aspects like lapel widths for rather longer. Always good to get a sense of perspective.
Day Clothes 1872
"[Described as 'seaside costume'] The man wears an informal lounge suit, the shape based on a cut-away coat. He wears the more comfortable turn-down collar with knotted tie and low-crowned 'bowler'-like hat."
What a suit! Not just the pattern, but the cutaway jacket, the peeping waistcoat, the contrast collar. It's still a lounge suit, though, and only worn because this is a more casual environment – by the seaside. Over time the casual replaces the formal, the suit replaces the frock coat, and today the shirt and trousers replaces the suit.
Day Clothes 1856
"The man wears a light overcoat over a 'frock coat' with full square tails, not cut away, and a contrasting waistcoat with lapels and loose, straight, drab trousers. He wears a bow tie introduced about 1840 and the now universal top hat."
This image is apparently taken from a painting of a couple at the races – 'Derby Day'. Actually the male costume isn't that dissimilar to the morning dress required in the Royal Enclosure of Ascot today, at least compared to the other variants above. Which shows how some places and events can retain that formality, when they have such control.
Day Clothes 1848/9
"Her companion wears the new-fashioned short lounge jacket with wide trousers, introduced for country wear around 1800. His collar is lower and a bow replaces the starched cravat."
I still find it surprising when descriptions of clothing this far back talk about new fashions, set to such precise dates. Though I have to say, the gentleman's companion doesn't look that pleased with his new fashion. 
After this card, the years start leaping back, usually by a century or two at a time. We're next taken to the era of Henry VIII…
Man's Formal Clothes about 1548
"This gentleman from a portrait painted about 1548 by Guillim Stretes, wears an overgown with full upper sleeves adding breadth to his shoulders, fashionable from about 1520. His doublet is loose with a seam at the waist and skirts, and his upper stocks (breeches) are separate from his hose, for greater comfort and ease of making. 
He has a padded 'cod piece' and his shirt is embroidered in black silk with small frills at the neck, which eventually develop into the ruff. His cap is softer and wider than previously, and his shoes are less broad in the toes than in the early years of Henry VIII."
I won't go further back in time, as the costumes start to lose their relevance. But I like this one because of its fine points – highlighting slightly less broad shoes – when there's so much more dramatic going on. Like massive sleeves and a cod piece. 
I also find clothing of this era funny for the way it reminds us how cyclical ideas of masculinity are. Wearing puffy sleeves and red tights might seem odd, until you think of all those guys with gym-built torsos and skin-tight stretchy jeans…