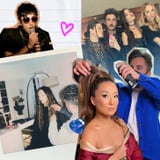 Welcome to Big Break, where some of the most influential figures in the beauty industry reflect on the moments that made them – from the good to the bad and everything in between. Here, Clayton Hawkins shares his journey from working in an extensions shop to hairstyling stars like Olivia Rodrigo and Dove Cameron.
Clayton Hawkins's love for hair runs deep. The youngest of four, Hawkins grew up in Los Angeles and made his passions clear with his family early on. "I would get wigs from Santa for Christmas every year," Hawkins tells POPSUGAR. "There are pictures of me at 5 years old with my little-boy bangs and then a clip-on fall – and b*tch, it was blended."
Hawkins remembers rewatching the 1990 "Dick Tracy" movie over and over, simply to catch a glimpse of Madonna's hair ("I was just in awe"). Then, in high school, after spending years play-styling wigs and his own hair, he turned it into an unofficial side hustle. "I bought my first car from doing all the senior girls' [hair] for prom," he says, adding that he'd often buy extensions and approach classmates if he thought he could help them with their hair.
While Hawkins was deep into theater – after high school, he was even accepted into NYU Tisch, Collaborative Arts Project 21 (CAP 21), a well-known musical-theater program – hair was his first priority. "Even when I was doing all these plays and musicals, even if I had a big part, I would be like, 'But I also have to do everyone's hair.' So before the shows, I was doing everyone's hair. It's always been a huge thing for me."
His professional training was a little unconventional: Hawkins learned how to apply the extensions he'd purchase by watching the reality TV show "Newlyweds" with Jessica Simpson and Nick Lachey. "Half the show, [Simpson] was with Ken Paves getting extensions put in her hair, so I would record on VHS and rewind and watch." Hawkins tried emulating the process of Paves gluing in Simpson's extensions on his classmates. "I butchered a lot of girls, but we got there eventually," he says.