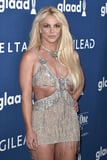 Britney Spears just added another tattoo to her collection. On Jan. 18, the singer posted a video to her Instagram Stories of herself getting the new ink in what appears to be a hotel room, making this one of the more recent designs the star has revealed to the public.
While Spears doesn't give an up-close look at the tattoo, she briefly mentions a baby duck, and the final result looks to be a small black-and-white portrait of the animal positioned on her right forearm. The singer also revealed her thoughts on the new ink, and in short: she's not happy with it. "Tattoo in Maui 3 days ago," the first part of the caption read. "Can't show it because it sucks !!! Like really really sucks !!! Sh*t !!! Psss . . . I have to fix it !!!"
In an accompanying Instagram Stories post, she also clarified that the new piece had nothing to do with a past ex partner. "Just to clarify . . . my tattoo had nothing to do with an ex in the past !!!" she wrote. "I simply did it because I wanted to !!! The pic with my ex is a time where there was less confusion on what it meant to be together . . . ."
Spears has a few other tiny tattoos. She revealed that she had the words "mem hay shin" written in Hebrew on the back of her neck, which translates to "healing," and over the years, she's flashed glimpses of additional designs like the flower tattoo on her right foot and the pair of pink dice on her left forearm.
Spears has been dabbling more with beauty since the end of her 13-year conservatorship in 2021. She's revealed everything from her experience with Botox to the deeper reason behind her love of nail art, so it makes sense that she's continuing to add to her already-existing body-art collection.
If you're curious about the rest of her designs, take a closer look at all of her tattoos and learn their meanings ahead.