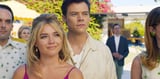 "Don't Worry Darling" has been one of the most buzzed-about movies of the year – and for more than one reason. Directed by and starring Olivia Wilde, the psychological thriller features a star-studded cast (led by Florence Pugh and Harry Styles), a gripping plot, and no shortage of artful cinematography. Set in a 1950s utopian community called Victory, the film's aesthetic embraces all things midcentury modern, particularly when it comes to hair and makeup. The more sinister elements of the story come through in the bouncy curls, cat eyes, and crisp red lipstick, too.
Pugh's character, Alice, and Wilde's Bunny, for example, are in Victory for very different reasons, which is reflected through their fashion and beauty choices. "Her clothing was very vibrant," the film's makeup department lead, Heba Thorisdottir, says of Bunny. "She's there by choice; she wants to be there. Hers and all of the other wives' [clothes] – they're in cooler, bluer tones than Alice, [which was] was on purpose just to keep that stark, cold [feeling]."
By contrast, Alice's makeup is "more warm and tanned and natural," she says. "She's independent and modern and successful". Alice's hair also stands out from the rest, mainly because Pugh is one of few cast members who's not wearing a wig. Her perfectly undone, Brigitte Bardot-inspired looks are visibly different from the more severe styles of other women in the community such as Bunny, whose fiery-red hair aligns with her personality. In an Instagram post, Wilde opened up about her "fear of wigs" before hair department head Jaime Leigh McIntosh came along and "created miracles" on set (but more on all this later).
Ahead, Thorisdottir and McIntosh are sharing more behind-the-scenes details about the hair and makeup in "Don't Worry Darling" – from Pugh's Bardot influence to Styles's "nasty" hairpiece.