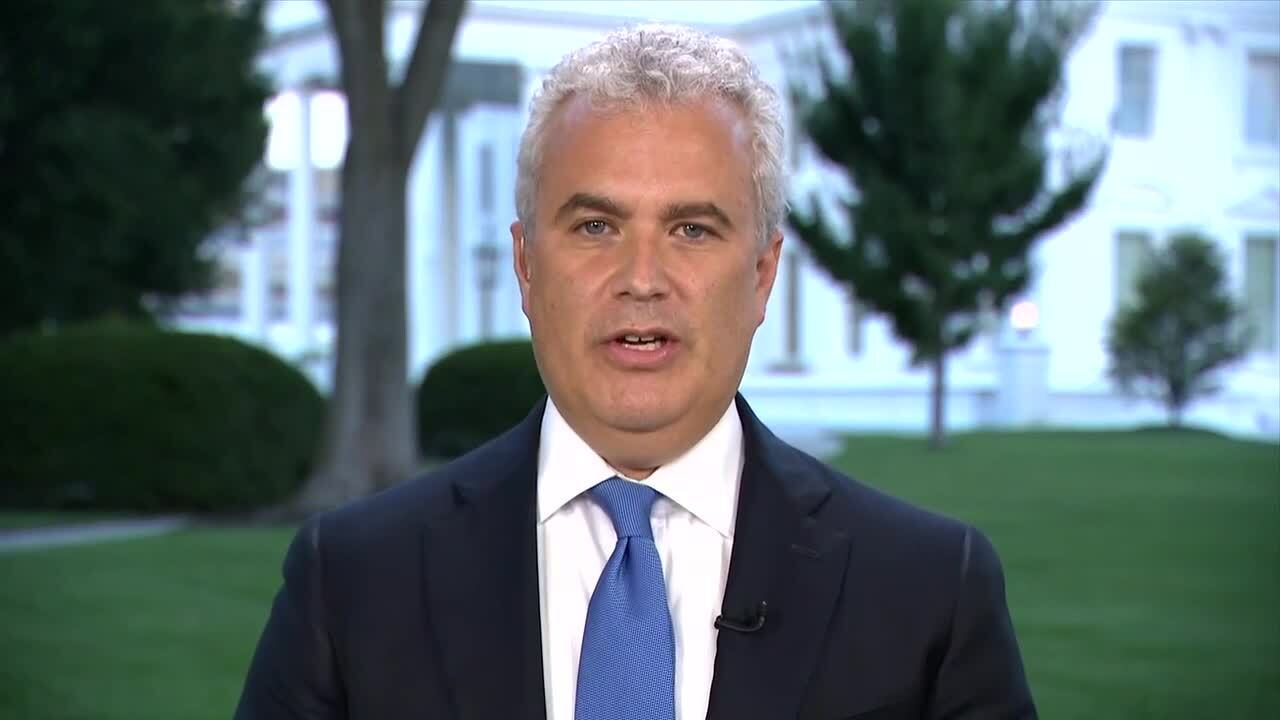 WASHINGTON (AP) — President Joe Biden is expected to name Jeff Zients, who ran the administration's response to the COVID-19 pandemic at the start of Biden's term, as his next chief of staff, according to two people familiar with the matter.
Biden's current top aide, Ron Klain, is preparing to leave the job in the coming weeks.
Since serving as COVID-19 response coordinator, Zients has returned to the White House in a low-profile position to work on staffing matters for the remainder of Biden's first term.
The two people familiar with the matter were not authorized to publicly discuss Biden's plans before an official announcement and spoke on condition of anonymity.
The Washington Post first reported on Zients' expected appointment. The White House did not respond to requests for comment.
The change at the highest levels of senior staff comes as Biden passes his two-year mark in office and pivots to a defensive stance against a House Republican majority hungry to investigate his administration's actions and his family. The White House remains mired in controversy over discoveries of classified documents at Biden's home in Wilmington, Delaware, and at his former institute in Washington, with the latest tranche of found records disclosed Saturday evening.
Biden, 80, is also preparing to launch his reelection campaign in the coming weeks, bolstered by a string of legislative accomplishments in the first two years of his presidency when Democrats controlled both chambers of Capitol Hill. He is confronting a Republican presidential field that is far from formed but for now is led by former President Donald Trump, whom Biden defeated in 2020.
The president's main sphere of advisers, in addition to Zients, on politics and legislation will continue to include presidential counselor Steve Ricchetti, senior advisers Mike Donilon and Anita Dunn, legislative affairs director Louisa Terrell, and Jen O'Malley Dillon and Bruce Reed, who are deputy chiefs of staff.
Klain will remain in Biden's political orbit, according to a person familiar with his plans — not unlike the role played by Cedric Richmond, who was the president's first director of the White House Office of Public Engagement and now is a senior adviser at the Democratic National Committee.
The outgoing chief of staff was also known to be friendly with the progressive wing of the Democratic Party. But some liberal critics of Zients swiftly went on the attack against the appointment even before it was official, highlighting in particular his private-sector ties.
Jeff Hauser, the founder and director of the Revolving Door Project, a progressive group that advocates for liberal appointees in government, said Sunday that the selection of Zients as the top White House aide did not jibe with Biden's "Scranton Joe" political image.
"Unfortunately, Zients is a veteran of private equity, rapacious health care providers, and Big Tech, which sets up a fundamental question that could determine Biden's political future: Will a Zients-led executive branch pursue the unpopular misconduct of people like Jeffrey Zients?" Hauser said. "It would be against Zients' character to pursue corporate lawbreaking, but it is also the only way Biden can retain the mantle of populist against the likes of (Florida Gov. Ron) DeSantis and Trump."
"Ron Klain has been an open ear and even-handed engager of actors across the Democratic Party," said Adam Green, the co-founder of the Progressive Change Campaign Committee. "Whomever the next Chief of Staff is, that will be the continued hope and expectation. There will likely be an early relationship and trust building stage."
Zients, vice chairman of Biden's transition operation after his November 2020 election, brings significant managerial expertise in government and the private sector. He was the director of the National Economic Council during the Obama administration and acting director of the Office of Management and Budget.
The longtime management consultant developed a Mr. Fix It reputation, tapped to lead the Obama administration's effort to repair HealthCare.gov after the bungled initial rollout of the site in fall 2013. Zients served as top executive at the Advisory Board Co., a Washington consulting firm.
Former President Barack Obama also enlisted Zients in 2009 to eliminate the backlog in applicants for the Cash for Clunkers program, which offered rebates to drivers who swapped old cars for fuel-efficient vehicles. Zients later took on a similar challenge to smooth sign-ups for an updated version of the GI Bill.
Another coming perk for White House aides: Zients, who was an initial investor in Call Your Mother, a bagel shop in Washington, had a penchant for hosting "Bagel Wednesdays" for staff. (Zients divested his shares before joining the White House in 2021).
Zients and his deputy on the White House's pandemic response team, Natalie Quillian, left the Biden administration last April before returning quietly in the fall of 2022. As they left, Biden thanked him for "stunning" and "consequential" progress battling the pandemic.
"When Jeff took this job, less than 1% of Americans were fully vaccinated; fewer than half our schools were open; and unlike much of the developed world, America lacked any at-home COVID tests," Biden said when the White House announced Zients' departure last year. "Today, almost 80% of adults are fully vaccinated; over 100 million are boosted; virtually every school is open; and hundreds of millions of at-home tests are distributed every month."