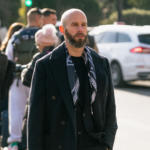 An Hermes silk scarf with all navy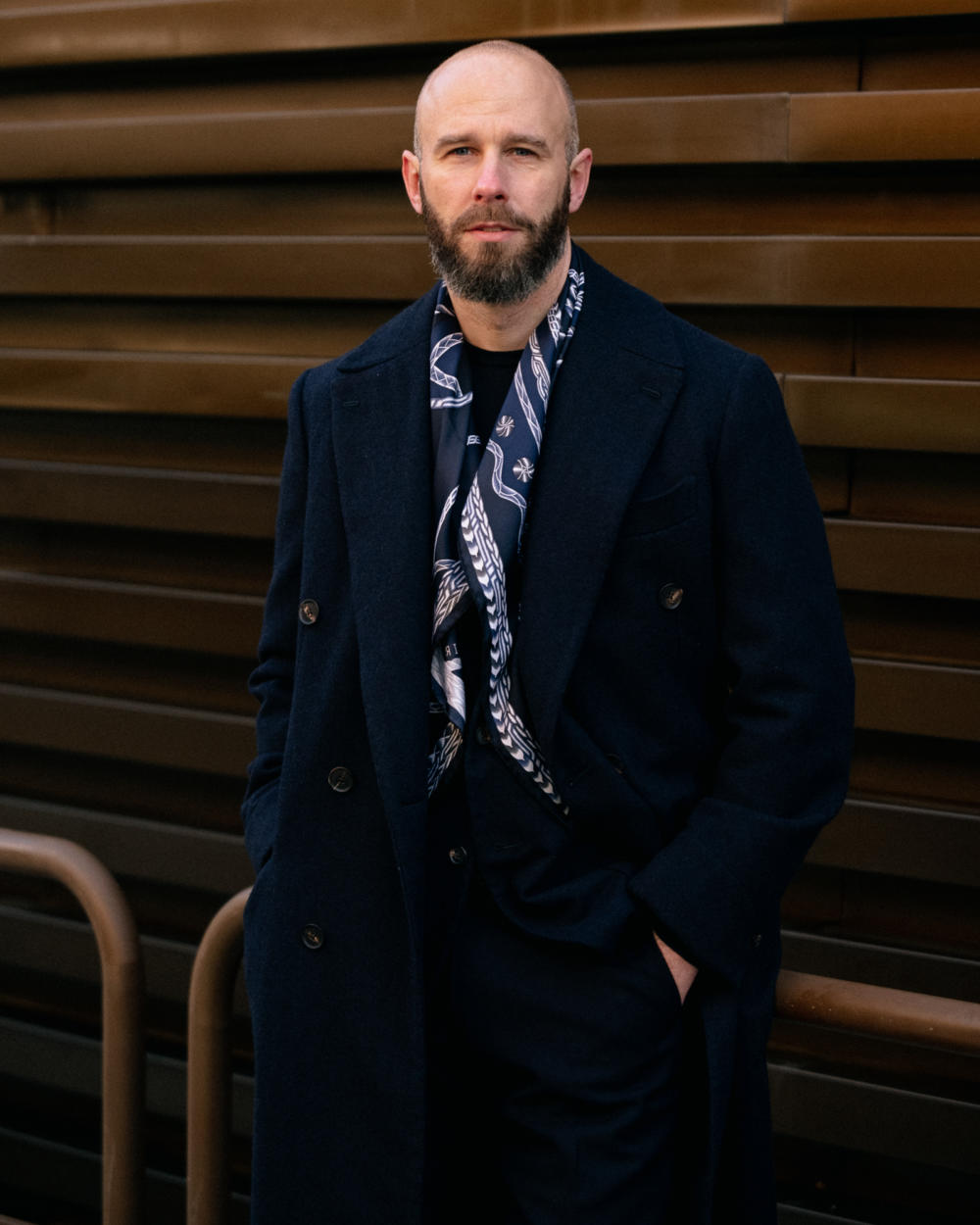 Long-term readers will be familiar with my passion for Hermes silk scarves, which I've often bought over the years as a treat, and of which I now have a small collection (nine of them, since you ask). 
I've found particular enjoyment this winter wearing one as an accessory with an otherwise plain outfit, as here. I rarely wear a tie or handkerchief these days, and feel self-conscious with gloves sticking out of the breast pocket. 
Somehow a silk scarf doesn't have that feeling. Perhaps because I've literally never seen a man wearing one outside of Paris (and even that was in the Hermes HQ) so it's unusual and personal. And perhaps because those gloves or a Drake's silk feel more common (within the echo chamber of #menswear).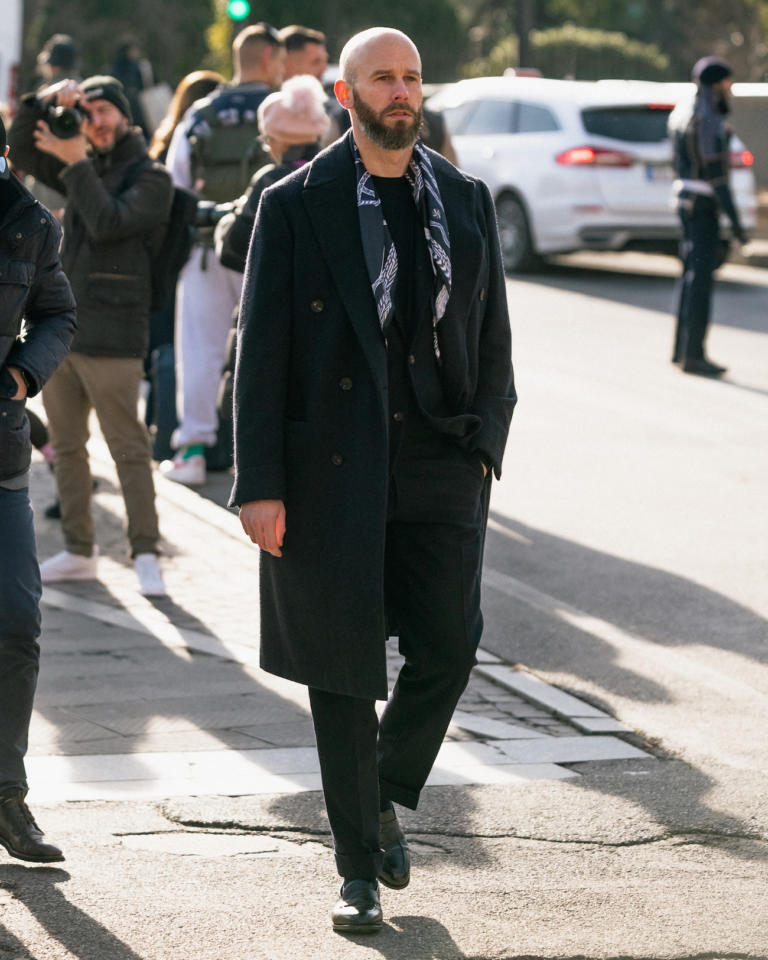 The immense advantage of a scarf like this is that it is both decorative and protective. It can be simply draped, as above, or tied close around the neck, providing protection from the elements. 
Silk doesn't seem that warm, being cold to the touch, but it's a decent insulator and very good at blocking the wind, which is why they were originally worn by cyclists. A strip of folded silk can also be tucked into a crewneck, as below, for something warm but subtler. And if it gets too hot, it's light enough to be tucked in a pocket. 
I've been saying for a while that I'd make a video demonstrating tying techniques, and I apologise to readers for not doing so. It's so much more time-consuming than writing an article, at least if you want to produce it to a particular level. 
However, the way the scarf is worn in here is pretty simple. Have a look at the Hermes site for anything that begins by creating a strip, and then either let it drape or tie it, with a simple over-and-under once or twice.
The model is the classic 90x90cm women's silk – or rather, a scarf from the women's collection. I think we're all broad-minded enough to accept that pieces can cross over, especially in something as understated as navy. 
The men's designs are usually just as bold anyway, simply with fewer bright colours. They're also nearly all in silk/cashmere, while I prefer silk. 
The one advantage of the men's range is that they are 100cm squares, which create a strip long enough to tuck behind the waist button of a fastened jacket. The 90cm ones are just about OK, but as my preferred waist-button position has lowered over time, they have started working loose sometimes.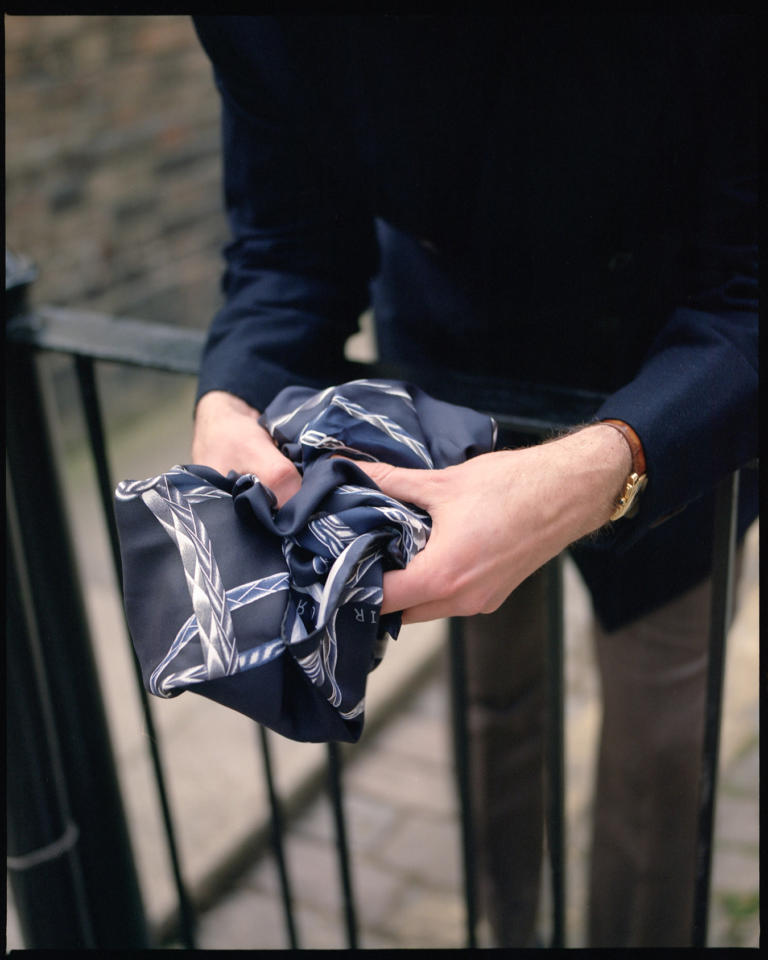 The key with finding a good piece from the women's Hermes range is to look out for designs in dark colours. There are rarely more than a couple a season, but they do change completely each time so there are always new options coming through.
I like the Hermes ones for their designs, but also for their quality. A surprising number of designer brands use digital printing rather than the dye-and-discharge method, which is more expensive but creates images that more precise and vibrant. 
The biggest reason for using digital printing is you can create more intricate designs, including shading. That's why Hermes designs are often quite bold, like the Drake's scarves that so many have become fond of over the years. 
If anyone would like to know more about those processes, you can see detailed reports on PS on the Adamley printing facility in England, where many of the Drake's designs were created, and on the very different – enormous, modern – Hermes facility in Lyon. 
I'm sure visiting the latter is another reason I feel fond of the Hermes silks, and am always playing around with ways to wear them. 
The navy coat here is by Ettore de Cesare, but I'll review that in a couple of weeks. 
For now, it's the triple-navy combination that I find interesting. To be honest, I really like it but struggle to analyse why, in my usual fashion. 
The jacket was covered previously here, and is by Solito in a tweedy Fox cloth. The trousers have been shown here, and are the old Fox serge. The knit is our Finest Crewneck in superfine merino (making a long-overdue return to the Shop in a few weeks). 
They're all different textures of wool, all slightly different shades of navy. 
Now I wouldn't normally wear a jacket and trousers together in such similar colours, because they risk looking like a mismatched suit. Yet with this navy knit I like it. 
I also don't normally wear a crewneck under a jacket, because a shirt seems more flattering. Despite a previous post here, it's not a combination I've found I turn to, yet with all the other navy going on I quite like it. 
If anyone has any thoughts on why it works – or indeed, views that it doesn't – please do write in. For the moment it pleases me, which is reason enough. 
The loafers are Edward Green, the black Piccadilly in Utah. I'm in two minds about Utah leather: it is more weather-resistant, being waxed, and the hatching is subtle. But it's hard to shake the suspicion that black calf would be better in a loafer. Certainly the delapré (same with no hatching) is too matte and plain. 
As to the Finest Crewneck, If anyone wants to be on the waiting list please email the support team. For those who don't know what the hell it is, see the original post from 2017. 
All other questions, shout as normal below.