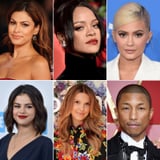 There once was a time when it felt like every celebrity had a fragrance, from Britney Spears to Jennifer Lopez to Paris Hilton. Now, it feels like every celebrity has their own beauty brand, and it doesn't seem to be slowing down anytime soon – in fact, celebrity-owned beauty companies only seem to be picking up speed.
Rihanna (owner of Fenty Beauty and now Fenty Skin) and Kylie Jenner (of Kylie Cosmetics) were once the picture of success when it came to side hustles by way of beauty brands, but that's now become the norm. Having actresses, singers, models, and athletes double as beauty brand ambassadors is nothing new, but in recent years, we've seen more celebrities break off on their own and create namesake companies. In 2020 alone, we saw more than 10 new celebrity-owned companies hit the market, followed by 15 more in 2021. Nine months into 2022, and we've also already seen 19 celebrities launch their next venture into beauty. We can see why it might be hard to keep track, so we rounded them up in a comprehensive list ahead.
It all began decades ago. Starting with the 1990s and working up to 2022, these are all of the celebrity-owned beauty brands that have come to fruition over the last 30 years – including the ones that are no more.