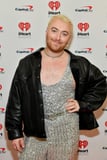 Sam Smith has a tattoo collection that boasts 35+ tattoos.
Most designs are scattered across their arms and back, with a few inked on their limbs.
Many tattoos have a deeper meaning, including designs that celebrate their non-binary gender identity.
Sam Smith has had quite a start to 2023. Their sultry pop anthem, "Unholy" featuring Kim Petras, has already been certified a chart-topping single, earning both artists their first Billboard Hot 100 number one and a Grammy nod. The singer-songwriter is also gearing up to release their much-awaited fourth studio album, "Gloria," due on Jan. 27. Even despite Smith's busy schedule over the years, the artist has managed to accumulate an enviable collection of tattoos that are just as remarkable as their music and serve as an extension of their vibrant personality.
Smith has shared the inspiration fueling their ever-growing love for body art while recently speaking with SiriusXM. "I think I have over, like, 35 now. It's weird because I never, like, aimed to be a tattooed person, but they're like little stamps wherever I go places. They've started to get more and more and more, and I'm gonna be filled," they said.
Though they have a whopping 35+ tattoos to their name already, they certainly don't plan on stopping anytime soon. "When I'm 70, I think I'll get one on my face. Through my life, I'm just gonna fill up, and when I hit my 70th birthday, I'll get something here, probably something small," they said while sweeping their cheek. "And then 80th will be like, 'Whoa!'"
While we count down the days till we can blast their highly-anticipated record "Gloria" on repeat, take a closer look at their extensive tattoo collection ahead, as well as what each one means.