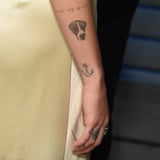 Meaningful memorial tattoos are a permanent reminder of a loved one no longer here.
Getting inked in remembrance of someone close to your heart can also be therapeutic during the grieving process.
We've compiled some ideas, from memorial tattoos for Dad to dog memorial tattoos, if you're looking for inspiration.
Nothing can ever replace being with a loved one, but if they've passed on, a tattoo is a lovely way to keep their legacy alive. Whether it's tiny or an elaborate piece of art that takes up your whole arm, there is no shortage of memorial tattoo ideas out there. Getting a loving memory tattoo inked in honor of someone you love and admire can also be a therapeutic part of the grieving process. For many, it's a permanent way to keep a loved one close when they physically can't be there anymore, as well as a permanent reminder of the memories and love you will always carry. Seeing as it's a permanent symbol of remembrance, you want to be 100 percent sure about the design and tattoo you are choosing. If you're struggling to think of some inspiration, we recommend brainstorming about something that always stuck with you, a symbolic reminder that represents what they mean to you, or a vivid memory you have of them. Here are some real-life examples to get you thinking.
– Additional reporting by Lauren Harano, Allison Ingrum, and Charlotte Kho