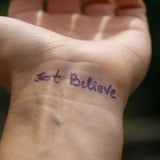 Single-word or quote tattoos can hold a deeper meaning for many people.
Quotes for tattoos can be motivational, poetic, funny, personal to you, or random.
This ink can include small, short quotes or bigger phrases depending on what design you're going for.
Like the author Joyce Meyer once said: change your words, change your life. This can also apply to tattoos. Words have the power to transform your perspective, and can often inspire you to do some amazing things, so if you want to give yourself a permanent reminder of your favorite word or phrase, nothing is quite as impactful as getting a quote tattoo.
The best (and perhaps most overwhelming) part about this type of design is that the options are endless. Whether you want to find a quote tattoo about strength, self-love, relationships, or a line from your favorite movie, song lyric, or poem, the sky is the limit with what you can get. Still, sometimes quote tattoos about life can help capture a sentiment that means something special to you better than anything else can.
Regardless if you like big or small designs, this ink can be placed anywhere on your body depending on if you want to keep the tattoo hidden and to yourself or you want the phrase out in the open as a daily reminder for yourself whenever you look at it. Either way, if you're looking for body art that represents you, we've rounded up some of the most beautiful and motivational quote tattoos that will change your point of view for the better. From quote tattoos for your arm, chest, shoulder, or wrist, there's a little something for everything in the slides ahead.
We hope these ideas will give you the inspiration you need to head to the tattoo shop. Keep scrolling to see them all.
– Additional reporting by Lauren Harano and Hilary White