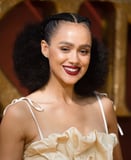 Most of us have our go-to party hairstyle. Mine, for example, is a low chignon because my hair lacks volume and I'm too lazy to deal with it. For others, I know that it can be anything from bouncy waves and a high ponytail to a favorite wig. But this festive party season – seeing as it's the last one of the decade – there's never been a better time to switch things up and try something new.
The thing is, trying a new hairstyle is easier said than done. First you have to decide on a look that complements your outfit. Then you have to make sure you have the right tools and styling products to be able to execute said look at home. Throw an accessory into the mix and it makes things even more complicated (and potentially more expensive).
Knowing all of this, we did some of the leg work for you by looking back at our favorite celebrity hairstyles from 2019 and rounding up a wide range of easy party-appropriate hairstyles for everyone, regardless of length, texture, or skill level (there's one look in here that literally requires you to just brush your hair and throw on a barrette).
Get your hair out of your face with a polished half-up ponytail like Sophie Turner or with short Dutch braids à la Nathalie Emmanuel. Or, you can really get into the festive spirit by throwing a bit of sparkle in the mix, whether that's with a hair accessory like Pixie Geldof and Barbie Ferreira, weaving gold thread through your braids like Alicia Keys and Saoirse Ronan, or straight-up topping your strands with loose glitter or gold leaf like Emma Thompson and Anya Taylor-Joy. Keep reading to see these hairstyles and more – and then check out some of our favorite festive celebrity makeup looks to complete the rest of your party look.