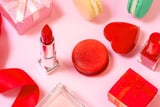 Valentine's Day makeup doesn't have to be focused on pinks and reds.
Ahead, we've rouned up ideas that are out of the box but still gorgeous.
Keep scrolling to check out Valentine's Day makeup inspiration that's anything but boring.
Have you recently walked into a drugstore, only to be ambushed by giant teddy bears, red ribbons, and candy? Or maybe your emails are now flooded with new love-inspired flash sales and "exclusive" gifts? This can only mean one thing: Valentine's Day is here. Ah, yes. The day for romantic gestures, heart-shaped everything, and pink galore.
Occasionally, we long for a simpler time: remember when Valentine's Day meant getting crafty and winning over your classmates with handmade cards? This Feb. 14, we're channeling our inner kid and embracing our DIY skills, but instead of breaking out the doilies, we're pulling out all the cosmetics in our kit. If you're looking for a head-turning, drawer-dropping, eyebrow-raising makeup look, that isn't your classic Valentine's Day makeup – something without all of the pink and hearts, this one's for you. Whether you're in a relationship, single, or the many combinations in between, Valentine's Day presents an opportunity to try out a new makeup routine – and it doesn't have to be limited to reds and pinks! If you're ready for some inspiration as to how to get your adult-style Valentine's Day creativity on, check out the makeup inspiration ahead.