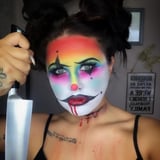 Clown makeup doesn't have to make for a scary Halloween costume if you don't want it to.
If you want to elevate your clown costume this year, try a glam makeup look.
From simple to creepy, keep scrolling for our favorite takes on Halloween clown makeup.
Halloween is just around the corner, which means it's time to start brainstorming our favorite part of the holiday: what costume to wear. Word on the street is that clown costumes are in, and we're here for it – despite the creepy factor. Sure, they have a reputation of being merry and lovable, but there's something inherently creepy about clowns that we just can't shake. In fact, sometimes it seems like the bigger the painted-on smile, the more disturbing the clown character becomes, right?
If you're going the clown route this Halloween, you should consider taking your clown-makeup cue from one of these wildly talented makeup artist creators. They've flawlessly captured that sinister jolliness, but they made sure to keep an element of glam involved. Whether you're looking for easy clown makeup, scary clown makeup, cute clown makeup, or even creepy clown makeup, we've got you covered. Bonus points: you'll have good reason to reach for the less-used colors in your color palettes.
Keep scrolling to check out all of our picks for the perfect Halloween clown makeup, from simple and easy to complex and creepy. Or, if you're going for more of a Pennywise clown vibe, check out this seriously haunting roundup.